Riding the Rails
by Julia Lynam
"All of the sights of the hill and the plain
Fly as thick as driving rain;
And ever again, in the wink of an eye
Painted stations whistle by."
--Excerpted from "From a Railway Carriage"
The child in this poem by Robert Louis Stevenson is gazing out of the window of a traveling train: she must have been on one of those express trains that shoot through small country stations at high speed without warning. Be sure you're not standing too close to the edge of the platform when that happens!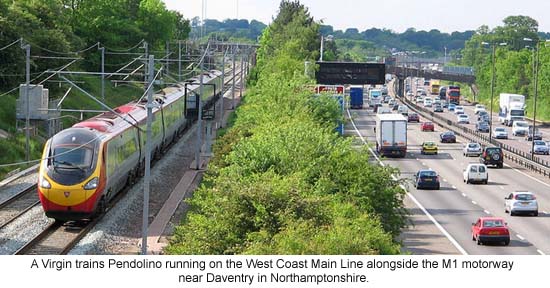 To be fair, there's usually a regular and very polite station announcement to alert passengers to the possible danger. Polite messages abound in the British railway system, and they're well worth listening to. Although some may be merely obsequious apologies and explanations for delays caused by signal failures or timetable changes, some are vital: the London to Brighton/Portsmouth train, for instance, divides part way on its journey and the on-train announcement will tell you which end of the train to sit. Failure to listen, understand and comply can mean finding yourself in Brighton when you wanted to go to Portsmouth, or vice versa -- a distance of some 60 miles. Information abounds at stations, too: many boast state-of-the-art LED displays announcing the next and subsequent two trains, their arrival times, destinations, and stopping places on the way.
Plan to enjoy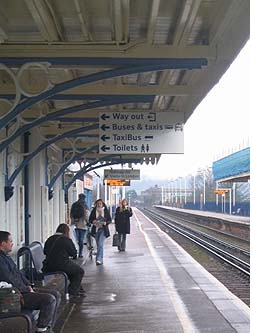 But before you even get onto a train in Britain, let alone arrive at a destination, desired or otherwise, how do you negotiate and navigate a complex rail transport system that, despite being chopped, changed, eviscerated and plundered throughout the 20th century nonetheless still holds a magic appeal?
Trains in Great Britain -- that's England, Scotland and Wales -- are run by 26 different companies. This multiplicity of providers may seem to present a formidable barrier to planning your rail journey, but the companies have got together and created National Rail, a single, one-stop information agency that can tell you all you want to know about rail travel throughout Britain, whichever company operates the train you travel on. It's well worth taking the time to consult this service, because rail travel in Britain can be immensely rewarding, and you wouldn't want to be deterred by organizational difficulties. Whether the journey is a short hop between two small and ancient market towns turned commuter havens, or a majestic sweep over the Scottish Highlands, for many of us a train ride satisfies an inner urge and provides plenty of people, processes, culture and landscape to watch, as well as "letting the train take the strain", as an old British Rail slogan suggested.
You can pick a scenic route, gliding through the gently rolling farmlands of the southeast, or sweeping past the majestic peaks of the Scottish Highlands. You're also likely to see the bleak, scraggy sides of towns, scrappy woodlands, auto dumps, tenements, moldering farm buildings and cheap housing. If you keep your eyes open you may also spot wild flowers blooming undisturbed in the deep-sided cuttings, or herons alighting gently in a meadow pond, inured to the proximity of the train.
Trains can get you almost anywhere, from large, bustling city stations to tiny village stops, in varying degrees of comfort. With so many different companies using the rails, the rolling stock varies widely, although service standards are usually high.
Plan ahead an allow yourself enough time to find the best route and fare -- for long journeys you can save money by booking seven or even fourteen days ahead for bargain fares.
Research and Ask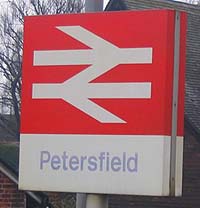 For information seekers, the two watchwords are "research" and "ask". Your starting point, long before you arrive in Britain, is National Rail's extremely informative and user-friendly web page. This one-stop shop brings together information for all the companies operating trains in Great Britain, which means England, Scotland and Wales, allowing you to research times, routes and fares, book your tickets and reserve your seats.
Earmark plenty of time to explore this web page, which includes news about special events and reduced price tickets to major attractions as well as details of facilities available at every station and fascinating updates on current travel conditions, such as: "Central Trains industrial action has been cancelled"; "Landslip between Machynlleth and Pwllheli" (yes, when in Wales you may need to point to written place names rather than trying to pronounce them!).
National Rail is an information agency; it does not actually sell the tickets. When you decide to purchase your ticket, they will provide you with links to retail agencies, typically the rail companies that cover the areas you will be traveling to, from and through, and The Trainline, which is a retail train ticket agency for the entire country.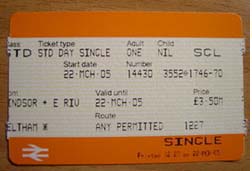 Most people buy "second class" tickets. This is the equivalent of economy class on an airplane and is comfortable enough for most of us. First class is considerably more expensive, more spacious, but not worth the difference to the average traveler. There's no third class! Train carriages will be marked on the outside if they're first class -- you can get on there, but if you don't have a first class ticket you'll have to walk to a second class carriage to find a seat. First class carriages often have separate six-seat compartments with a connecting corridor, whereas second class is generally open plan. For more privacy, look out for the little eight-seater second class compartment at the end of a first class carriage, and move fast if you want to get into one! Smoking is no longer allowed on trains in Britain.
Once in Britain, you'll find two more good sources of rail information. The National Rail telephone bureau is the telephone equivalent of the web page, offering one-stop information shopping for all the rail operating companies. The 24-hour number within Britain is 08457 48 49 50 and calls are charged at the local rate.
If you're already at your starting point in Britain, your local station staff usually have more detailed local knowledge, as well as access to the national information service.
The "Travel Centre" at your local station may be separate from the ticket office. At smaller stations, with no separate Travel Centre, the ticket office will be the place to ask. Try to go at a quiet time if you have a lot of questions, you won't want to hold up a line of ticket-buying customers with trains to catch!
Some of the questions to ask any of web page, telephone service, Travel Centre or ticket clerk are:
What is the quickest route from A to B?
Are there other routes? More scenic? Fewer changes?
What is the cheapest fare?
Can we reserve seats?
Can I get a discount card to reduce the fare?
Is it cheaper if we travel at a different time? (Peak hour travel, before 9 am, may be more expensive).
Can I get a better price by booking ahead?
I have a disability. What accommodations are there for access?
We're traveling with bicycles/a dog/a coffin. What arrangements can be made? Do I have to pay extra for them?
Once you've bought your ticket, be sure to ask, "Which platform does the train leave from?"
"Railcards": discounts for almost everybody
The National Rail web page and telephone service, and every station in Britain, carry information about "Railcards", discount cards designed to encourage rail travel and save travelers some money. Various cards are available for specific sectors of the population such as seniors, students, families, and also for anyone making multiple journeys within a certain area. People of any nationality can purchase these cards. A one-time fee to purchase the card entitles you to discounts on all subsequent qualifying journeys.
If you're traveling by train with children under 16, check out the "Family Railcard" valid throughout Britain. This can be a terrific bargain. There are rules about maximum and minimum group sizes, so check carefully.
With the Family Railcard, which costs £20, ($40), adults get one-third off their tickets, children under 16 save 60 percent, and children under five travel free.
For instance, a family of two parents, a 17 year-old (counted as an adult) and two under-15s traveling from London to Edinburgh and back with a Family Railcard would pay a total of £160.50 pounds (plus the £20 cost of the card). Without the Railcard, they'd pay £195.
With a Senior Railcard, also costing £20, one person traveling from Petersfield in Hampshire to Cardiff in Wales and back would save £15.65 (£30.35, compared to £46). So this would be worthwhile only if you were planning to make more journeys by rail.
On the way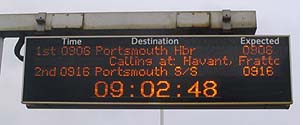 You've planned your journey, picked your fare, bought your ticket, reserved your seat, discovered which platform to wait on, and here you are, ticket safely in an accessible pocket or purse, at last standing on a draughty station platform, breathing the diesel fumes, watching other passengers scurry by or linger at the newsstand. Information may be flashing on an illuminated display, allowing you to track which train will be yours: the first second or third to arrive; intermittent announcements may crackle over the loudspeaker -- listen carefully and if you didn't understand, ask someone! Or you may be standing in the sunshine at an unstaffed station on the Yorkshire moors, knowing full well that the next rain must be yours because there won't be another one today on this single track line leading out to Whitby Bay, where Dracula made landfall in England, according to Bram Stoker's novel.
The train arrives with a whoosh, a clatter and a hissing of brakes. Locals will have positioned themselves to climb straight onto their favorite spot in the train; maybe they want to be at the front so they don't have far to walk when they alight at the other end, or maybe they want to be near the bar. With a reserved seat you don't have to hurry, but if you couldn't or didn't reserve a seat, you make a beeline for an empty looking second-class carriage. Just before you get on, be sure to check again, asking another passenger or the guard if he or she is nearby "Is this the train for Stafford?"
Trains don't stop for long. The guard will stand beside the train whistle and paddle in hand, wait until all the doors are shut, check the time and wave the train off on its way, with you safely on board.
You settle down, gazing out of the window, trying to orient yourself to the railway view of the backside of the charming historical town you've just explored.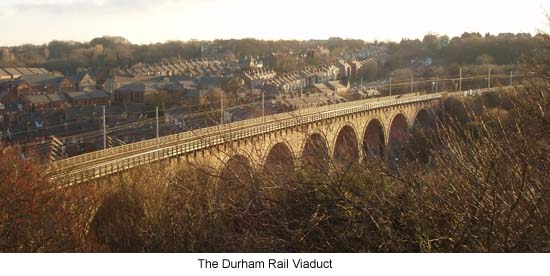 "Faster than fairies, faster than witches" as Robert Louis Stevenson says, you pass through hill and plain. On-board announcements tell you when you're approaching a station. Long distance trains have buffet cars that serve drinks, snacks and full meals, and medium-distance trains often offer a vending cart service. This, surprisingly, serves alcoholic drinks as well as tea, coffee, soft drinks and snacks. Inevitably, refreshment prices on board trains are higher than in the outside world.
There are toilets on board, and you can walk up and down the train for amusement and exercise. A ticket inspector is almost certain to come by. He's a friendly young man with his name, Alan, pinned on his shirt. "Good afternoon," he trills, "Can I check all unseen tickets, please?"
"That's smashing," he says, handing your ticket back to you and breezing on down the coach.
It's possible to buy a ticket on board from the inspector if you don't have one, perhaps because you got on at an unstaffed station, but you may miss out on cheaper fares that way.
Your station is next; you gather your belongings and make your way unsteadily to the door. The train grinds to a halt. Which side is the platform? It could be either side. Now you realize that there is no handle inside the door. How to open it? There are two possibilities: modern trains have push buttons beside the door, and the older ones have handles only on the outside of the door, so you have to open the window and reach outside to turn the handle.
Stepping carefully down onto the platform, because British trains are almost always raised above the platform level, you experience the thrill of arrival at one of those painted stations. Breathing in the vibrant air of a new city, the sharp tang of the sea, or the sweet scent of heather in bloom, you can congratulate your on your ability to take plan, research, ask, and negotiate the intricate world of rail travel in Britain.
Check Out the Lingo
In Britain, transportation schedules are called "timetables". They use the 24-hour clock (like the military in the U.S.).
Dates are written day-month-year, not month-day-year as in the USA. While 9.11.01 in the USA means the eleventh of September 2001, in Britain it means the ninth of November 2001! (In Britain, September 11, 2001 would be 11.9.01)
"Return" is the British term used for what is called "round trip" in the USA, and "single" is British for "one way".
More Information:
National Rail

The Trainline

Rail transport in Great Britain

http://en.wikipedia.org/wiki/Rail_transport_in_Great_Britain
This Wikipedia page offers links to a vast array of information on British trains and rail systems, including rail companies, routes, history and more.
---
Julia Lynam is originally from Cardiff in Wales, but has lived in Vermont on and off for the past 30 years. She is a freelance journalist and storyteller and loves to travel, especially on trains. She is currently traveling in the US Southwest and has discovered a new passion in digital photography.
---
Article and photos © 2005 Julia Lynam
Ticket, Durham Viaduct, and Virgin Pendolino photos courtesy of Wikipedia.org