Comfort on a Budget: Hostelling in Britain
by Pearl Harris
My diary after the August 2004 motoring tour my husband and I undertook in Britain reads:
Statistics: We drove 5,000 km. Gas costs were 85p. per liter -- i.e. $4.50 per gallon. We stayed 11 nights in Hostels, 8 nights in campsites and 1 night in a B&B.

Campsites averaged £12 Pounds/$21 per night for the basic tent pitch without electricity
1 night at a farm B&B cost £50 Pounds/$90 per night for both of us incl. breakfast. Hostels averaged £25 Pounds/$35 per night for both of us or $17.50 each, including breakfast!
Camping is obviously the cheapest way to go, but definitely not the most comfortable, especially in Britain's notorious weather conditions. B&Bs are wonderful and a great way to meet the English people, but about three times the price of Hostelling International! The incredible HI network provides low-cost accommodation in over 300 locations in Britain.
The wonderful thing about hostels is that no two are ever the same. Hostels are often situated in the loveliest of settings amidst spectacular scenic beauty: some in National Parks, others along beautiful coastlines, or in the heart of historic cities. Buildings vary from Victorian mansions, castles, and thatched cottages to modern state-of-the-art constructions.
More Comfort, Fewer Chores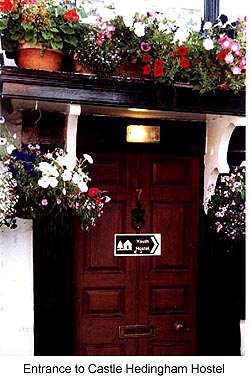 Since beginning my hostelling travels forty years ago, I have noted how hostels have changed over the decades. However, the essence remains -- the guest is accommodated at budget prices in a clean, comfortable accommodation in the company of like-minded travelers from all over the globe with whom one is able to share travel experiences and information. Indeed, one of the prime joys of hostelling is the exchange of ideas and information with fellow-travelers. Even if travelling alone, one need never feel lonely when staying in a hostel. Hostel managers and friendly staff are always on hand to advise guests on local travel, timetables and places of interest.
The type of accommodation varies from hostel to hostel. Private rooms, double rooms or family rooms are usually available and need to be booked in advance. Often these have their own en suite shower and toilet. The single traveler may be accommodated in a same-sex dormitory for four, six or more guests, which is slightly cheaper than a private room. The general trend today is towards smaller dormitories, rather than the large 20-bed type of a bygone era.
Bathroom facilities are shared and immaculately maintained. The days of doing chores in the morning before leaving your hostel are also long gone! Hostel overnight fees have increased over the years, but at the same time, full-time hostel staff are now employed to do all the chores around the hostel.
Standards are strictly maintained throughout the HI network, so one is always assured of a clean, comfortable bed and warm shower at the end of the day. Crisply laundered sheets, pillows, duvets and blankets are always included in the overnight fee. HI offers a range of full meals as optional extras and these are invariably hearty, wholesome fare at a fraction of the price of local restaurants. Breakfast is usually included in the overnight fee.
Many hostels have well equipped self-catering kitchens for guests, including refrigerators. There is often a garden, sitting room, TV lounge, laundry and sometimes a games room. Internet facilities are provided at many of the larger hostels.
Security is strictly maintained, sometimes with key-card access for guests and lockers for valuables. HI adheres to the IYHF Environmental Charter, observing strict criteria for the protection of the environment.
Opening hours of hostels vary from place to place, but are generally between 08:00 to 10:00 and 17:00 to 22:00. Larger hostels are open 24 hours a day. Details of the hours of each individual hostel are to be found in the HI Guide Book.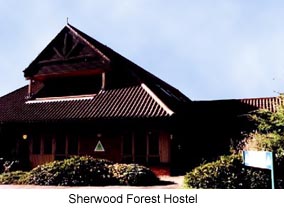 Hostels in Britain are rated according to a star system in line with the VisitBritain National Quality Assurance Standards for Hostels. Accommodation is assessed on quality, facilities, cleanliness, decor, furnishing, food and service by staff. The ratings vary from 1 star, which indicates an acceptable quality, up to 5 stars, which is the mark of an exceptional hostel.
One's Hostelling International card not only opens the door to the world's largest budget accommodation network but also entitles the holder to discounted land, air and sea travel. Certain museums, exhibitions, zoos, art galleries, restaurants, pubs and shops also offer HI member discounts. For example, all English Heritage sites allow a 25% discount on standard admissions. Eurolines and National Express offer discounts on journeys to HI members. SeaFrance offers a 15% discount on selected services on the Dover-Calais ferry crossing.
You can find the full list of discounts at the back of the HI Guide Book for Europe -- new editions are published annually. This is an essential handbook, listing invaluable information for all European hostels, including addresses, phone numbers and details of how to reach each hostel, facilities and prices. The Guide Book is obtainable online at http://www.HIhostels.com.
Booking
The one essential travel tip I would offer to any traveler to Britain is to join the Hostelling International organization before leaving home. To join the HI organization, contact your nearest HI branch in your home country. This may be located at the Hostelling International website (see below). Membership fees vary from country to country. It is essential to have your HI card if you wish to stay at any hostel in Britain.
It is highly recommended that one reserves hostel accommodation in advance, especially if travelling during summer or if you require family or private rooms. The IBN (International Booking Network) offers secure booking facilities online for most hostels up to 6 months in advance by credit card, whereby you have immediate confirmation of your reservation. In most cases, reservations can be made through the YHA central reservation number (see below) or online; however, some hostels must be booked directly by telephone.
Larger city hostels are open throughout the year, but in smaller towns may be closed during certain months. These details are also listed in the Guide Book or on the website. The maximum stay in any one hostel in Britain is 21 days. Smoking is limited.
Overnight fees in hostels in England range from £5 ($9) to £24 ($43) per person per night, depending on the type of hostel. In some cases, this includes breakfast, while in others, there is an additional charge for Breakfast.
A small number of hostels have full facilities for disabled guests, and most offering limited facilities. It is best to check on the specific hostel on the website to ascertain exactly what type of facilities are provided for wheelchair users.
Some hostels organize excursions and sight-seeing trips. Tours involving walking, trekking and cycling may also be offered, with bicycles and mountain bikes available for hire. Detailed maps of the locality are provided. There is usually safe parking for guests' motor cars close to the hostel.
Some of My Favorite Hostels
Windermere Hostel, on the outskirts of Windermere village in the Lake District of Cumbria, is the ideal base from which to explore the Lake District. Perched on a hilltop, this hostel has an unsurpassed view over Lake Windermere with cows and sheep grazing in the rolling green meadows in the foreground. A more idyllic scene can not be imagined. Sitting on the terrace of Windermere Hostel, one can fully appreciate the inspiration the Lake District was for Wordsworth, Shelley and their contemporaries.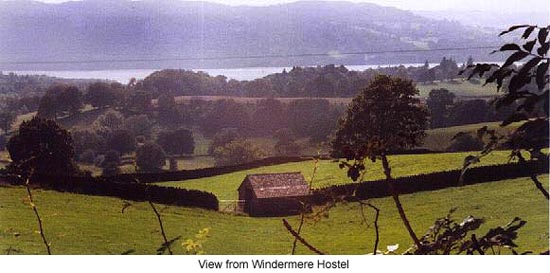 7Our comfortable twin-bedded room overlooked the tranquil surrounding forest.. The self-catering kitchen was well-equipped and dinner was enjoyed on the terrace in the company of our fellow-hostellers.
Situated within walking distance of picturesque Troutbeck village, Windermere hostel has an interesting history. Once a stately private mansion built of wood, it burned to the ground and the disillusioned owner rebuilt it in its present functional concrete form, vowing never again to use wood in construction of his home.
The hostel operates a shuttle bus transfer from the Windermere station and to surrounding areas. Take the shuttle bus to nearby Ambleside, where you will see the impressive Ambleside Hostel right on the shores of the lake at Waterhead pier, the starting point for the Windermere Lake Cruises. This hostel must have once been a 5-star hotel, now the fortunate property of Hostelling International.
Windermere Hostel
Bridge Lane
Troutbeck
Windermere, Cumbria LA23 1LA
Windermere@yha.org.uk

Ambleside Hostel
Waterhead
Ambleside, Cumbria LA22 0EU
Ambleside@yha.org.uk
Sherwood Forest Hostel is situated on the fringes of Robin Hood's forest in Nottinghamshire, near the quaint town of Edwinstowe. Cozy wood-paneled family rooms with private shower and toilet facilities and names carved in green on each door, such as "Friar Tuck" and "Little John", make for another hostel stop with a difference!
The self-catering facilities are excellent, as are the meals provided by the efficient and friendly staff. The dining room overlooks the leafy forest outside. The TV room is pleasant and homely. Many walks and other excursions into the surrounding historic forest are organized by the hostel.
Sherwood Forest Hostel
Forest Corner
Edwinstowe, Nottinghamshire, NG21 9RN
Sherwood@yha.org.uk
Castle Hedingham Hostel is situated in Essex, in the historic village of Halstead, southeast of Cambridge. Halstead is a timeless English village, straight out of the pages of a Victorian novel. Castle Hedingham Hostel itself is a National Monument and is situated on the corner of the quaint, narrow Castle Lane beneath the towering ruins of mediaeval Castle Hedingham.
Enjoy your evening meal in "The Bell" tavern, just down the road from the Hostel, where the locals are super-friendly and the food (and Australian wine) outstanding.
Castle Hedingham Hostel
7 Falcon Square
Castle Hedingham
Halstead, Essex CO9 3BU
castlehed@yha.org.uk
Every year, more than 4 million travelers see the world through Hostelling International. Any young-at-heart traveler, irrespective of age, may use hostels. In fact, today it is as common to find young families, the middle-aged or elderly as it is to find the young backpacker in a hostel. If you are a committed travel addict, you can hardly afford not to be a member of Hostelling International! If you want get to know the real Britain, there is no better way than by hostelling.
More Information:
Hostelling International

UK/Europe Website: http://www.HIhostels.com
US Website: http://www.hiusa.org / Hostels@hiusa.org



Youth Hostels Association (England and Wales) Limited (YHA)

Trevelyan House
Dimple Road
Matlock, Derbyshire DE4 3YH
England
Customer services (+44) 870 7708868
International inquiries: +44 1629 592700
Fax +44 870 7706127
Customerservices@yha.org.uk
http://www.yha.org.uk



National Tourist Authority
---
Pearl Harris, whose ancestors hail from Britain, was born in South Africa. In 2002, she emigrated to the Czech Republic with her husband, their dog and cat. Pearl resides permanently in the Czech Republic where she works as a freelance travel writer, English teacher and proof-reader. Her main passion is travel. Having traveled extensively in Africa, Europe,the USA and UK, she never intends to stop. Other interests are pets, photography, reading and writing. Pearl, a retired Diagnostic Radiographer, has a B.A. in English and Linguistics, post-graduate Diploma in Translation and TEFL qualification. Her only daughter, a professional photographer, lives in New Orleans.
---
Article and photos © 2005 Pearl Harris