TIMELINE: Bath
by Darcy Lewis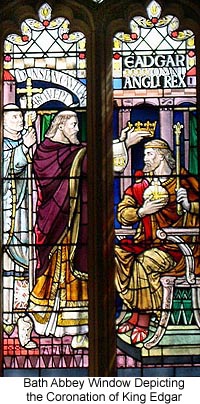 Pre-44 A.D.: Celts are the first to build a shrine at Bath's springs, dedicated to their goddess Sulis.
44-410: Romans built town around springs, calling it Aquae Sulis (the waters of Sulis). Buildings included the Great Bath.
4th century: The word "Christian" makes its first known appearance in Britain on a Roman petition.
5th-10th centuries: Anglo-Saxons called Bath Ba_um, Ba_an or Ba_on, meaning "at the baths," from which the present name comes.
577: In the Batle of Deorham, Ceawlin of Wessex split the Romano-British forces, leading to the fall of Bath.
675: King Osric of the Hwicce established a monastic house at Bath.
781: King Offa of Mercia rebuilt the monastery's church, which he dedicated to St. Peter.
871-899?: King Alfred the Great laid out the town of Bath, abandoning the Roman plan.
973: King Edgar, first effective king of all England, was crowned in Bath Abbey.
1088: Royal physician John of Tours became first Bishop of Bath and moved the see of Somerset from Wells to Bath, beginning construction on a cathedral.
1482: Oldest surviving home in Bath constructed.
1499: Bishop Oliver King demolished the Norman cathedral begun by John of Tours and began construction on the current Abbey.
1539: Bath Priory was dissolved by King Henry VIII.
1558-1603: Bath became a popular spa again during the Elizabethan period.
1590: Queen Elizabeth I granted Bath city status.
1702: Queen Anne visited Bath, bringing it new status as a resort for the wealthy.
1703: Queen Anne visited Bath again, cementing its status as a chic resort.
1704: Architect John Wood the Elder was born in Bath.
1705: Richard "Beau" Nash, a celebrated dandy and leader of fashion, became Bath's Master of Ceremonies.
1754: John Wood the Elder began construction on the famed Bath Circus, Britain's first circular street.
1761: Beau Nash died after presiding over Bath society for 56 years.
1765: Selina Hastings, Countess of Huntingdon, commissioned Methodist Chapel in Bath.
1767: Construction began on Royal Crescent; designed by John Wood the Younger.
1774: Pulteney Bridge, a Robert Adam design, was completed.
1774: Royal Crescent construction was completed.
1781: Amateur astronomer William Herschel discovered the planet Uranus from Bath.
1791: Methodist leader and patron Selina Hastings, Countess of Huntindon, died.
1801: Jane Austen arrived in Bath.
1803: Jane Austen sold her first novel, Northanger Abbey, to a Bath bookseller for £10, who let it languish for years before eventually selling it back to Austen's brother for the same sum.
1806: Following her father's death, Jane Austen moved from Bath.
1810: Kennet and Avon Canal opened, increasing the navigability of the River Avon.
1827: William Beckford's Tower was completed near Bath.
1840: First letter mailed using famed "Penny Black" stamp as postage.
1841: The Great Western Railway completed its line from Bristol to London, including Bath, following completion of the Box Tunnel.
1974: Bath became part of Avon when that county was created, abandoning its historical status as part of Somerset.
1996: Bath's city council was abolished.
1996: Bath became the main town of the new Unitary Authority of Bath and North East Somerset following the dissolution of the county of Avon.
Related Articles:
The Beauty of Bath, by Michele Deppe

The Roman Baths, by Moira Allen

Number 4 Bath Circus: A Georgian Garden Reborn, by Yvonne Cuthbertson

A TASTE OF BATH: Bath Buns, Bath Olivers and Wassail, by Dawn Copeman
---
Darcy Lewis is an award-winning freelance writer whose articles have appeared in Writer's Digest, HGTV Ideas, Home, and the Chicago Tribune, among many other publications. Much of Darcy's knowledge of British history can be traced to her work as a history major specializing in pre-modern England at Brown University in Providence, RI. But her passion has deeper roots: Darcy's English mother, who is an endless treasure trove of stories about "how we do things at Home."
---
Article © 2005 Darcy Lewis
Photo © 2003 Moira Allen