The Beauty of Bath
by Michele Deppe
Nestled close to the Cotswolds in southwest England, Bath was discovered by the Celts, and then coveted by the Romans for its natural hot mineral water springs. In the 18th century, an elegant city was built upon Bath's ancient Roman underpinnings. Cradled in an idyllic landscape of seven rolling hills, the city centre is a flawless example of Georgian architecture, built with locally mined, honey-colored stone.
The city of Bath is conspicuously graceful.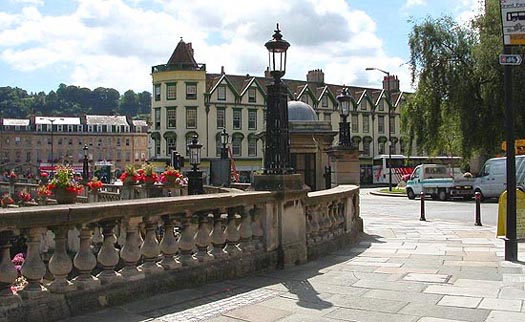 After all, everything in Bath is as it should be. Organic beauty is perfectly balanced by the British correctness of the city's classical design. Visitors often feel as though they've stumbled upon the setting for a Regency film. Actually, their impressions are correct. Bath's unspoiled beauty has appeared in dozens of movies, most recently the Hollywood release of Vanity Fair.
Despite its impressive architecture, the compact city is a pedestrian's paradise. Frequent signs make it easy to get around. Strolling allows time to appreciate Bath's visual harmony of proud, narrow townhouses coupled with exquisite gardens.
Bath's rich historical legacy has earned its distinction as a World Heritage City. The graceful arc of the Royal Crescent, quaint shops tucked in romantic streets, a vigorous arts' culture, and numerous museums all serve to make Bath a magical destination.
When in Bath, do as the Romans did...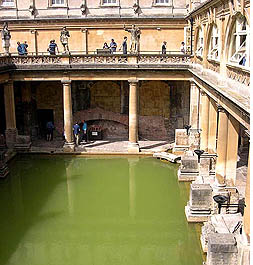 The Roman Baths Museum is one of the top ten attractions in Britain. Over 2,000 years later, as visitors to the Roman baths gaze across the haunting, mysterious green waters, it's rather easy to envision a citizen of the Empire soaking in the "aquae sulis." The hot mineral water is a cozy 116 degrees Fahrenheit, and the main spring produces about 240,000 gallons of water daily. Remarkably, the waters circulate via original Roman plumbing.
People have flocked here for centuries to drink and dip in the restorative spa waters, which were thought to relieve health complaints. However, modern bathing in the Roman baths would be distinctly unhealthy. The baths were insulated with forty-five layers of lead to keep the water warm.
On the ground level, overlooking the King's Spring, is the famous Grand Pump Room, once the place to 'see and be seen' in society. The Pump Room's gorgeous interior is in the neo-classical style of 1795, and features mineral-rich drinking water drawn from a fountain. And, yes, it is served warm, just as it naturally comes from the springs. The water is slightly smelly, and bit iron tasting, but part of the Bath experience!
Taking tea in the Pump Room is still a fashionable Georgian-style treat. Beneath dazzling crystal chandeliers and Thomas Tompion's circa 1709 clock, visitors are treated to a live performance by a violin, cello and piano trio.
This year, the opening of Thermae Bath Spa will once again draw bathers to the waters of Bath. Built upon the resplendent Hot Bath from the 18th century, weary travelers can enjoy a luxurious plunge in the steamy, natural spring mineral waters and choose from over fifty beauty and health treatments. The spa's unique design by Sir Nicholas Grimshaw unites historical buildings with unobtrusive modern facilities. An open air, rooftop pool feeds the spirit with breathtaking views of the city and surrounding English countryside. The spa offers waterfall showers, aromatherapy, an on-site restaurant, and classes in yoga, meditation and Pilates.
Bath Abbey: Splendor From Ruins...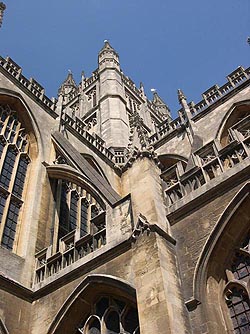 Towering above the Roman Baths are the gothic spires of Bath Abbey. The first ruling monarch of England, King Edgar, was crowned here over 1,000 years ago. The medieval Abbey stands on the site where a church was originally built in 757. It was destroyed by Norman conquerors. The Normans then built a monastery on the site in 1090, but let it go to ruins.
The present Abbey was begun in 1499, after a dream inspired Bishop Oliver King to remove the Norman structure and build a new church on the foundations. His dream guided the unique design given to the West Front. For a time, the Abbey fell into disrepair after Henry VIII ordered the dissolution of monasteries. Now fully restored, Bath Abbey celebrated its 500th anniversary in 1999.
Far from being a spooky old church, The Abbey floods with light from the many windows. The East End stained glass windows present a stirring depiction of fifty-six scenes from the life of Christ. What one sees today, however, is not the original Victorian window; this was shattered when a bomb struck the nearby Parade Grounds by the river during World War II. Fortunately, the firm that had constructed the window still had the original designs, and was able to recreate it in all its glory. Also glorious is the Abbey's fan-vaulted ceiling.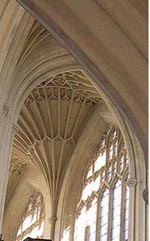 Visitors are warmly welcomed to pray and tour the Abbey free of charge, with an invitation to contribute to the church's annual half-a-million pound upkeep.
The Heritage Vaults on the Abbey's south side hold a small museum. The vaults are full of interesting documents and other objects recording the history of the Abbey, along with information about how the Abbey has been used and how people enjoy it today.
Bath Abbey pays tribute to several famous residents, including Admiral Arthur Phillip, who was the founder of Australia's earliest settlement and first Governor of New South Wales. He retired to Bath at 19 Bennett Street. There is a wall tablet honoring Bath's Master of Ceremonies, Richard "Beau" Nash. He was buried by the city in great pageantry and laid to rest at the Abbey in 1762.
For more images of Bath Abbey, see the Bath Abbey and Bath Abbey Stained Glass Photo Galleries.
Palladian Personalities: The Founders of Modern Bath
Queen Anne's visits to Bath in 1702-1703 stirred up national attention, but it was a trio of men that spurred the city's ambitious expansion, economical success and holiday appeal.
Architect John Wood (and later his son, John Wood the Younger), local stone merchant Ralph Allen, and dandy Beau Nash created the lure of Bath. Wood's harmonious designs, executed in beautiful materials by Allen, made the graceful city of Bath a storybook backdrop for Beau Nash's social life. Nash's charismatic leadership of the upper classes attracted visitors and launched Bath as a premier resort.
Beau Nash held a remarkable influence on Bath society for over fifty years. He introduced newcomers to society. Nash masterminded a stringent code of etiquette, including making dueling passŽ, and commanding all balls to be finished at eleven so guests could get adequate rest. No one challenged his genteel directions. To ensure that Bath's social life proceeded according to Nash's design, Nash also oversaw the construction of Bath's Assembly Rooms, where Bath's social elite could gather for games, dancing, refreshments and other social activities. The Assembly Rooms are designed so that visitors would progress from one to the next; the rooms today offer a cafeteria and house the famous Costume Museum.
Bath was the Vegas of its day. Visitors would stay for weeks to relish society, take the healing waters, patronize the smart shops and prosper at the gaming tables. An enthusiastic gambler, Nash was responsible for Bath's casino era until Parliament outlawed most public games of chance. Other games were invented, and those discreetly kept gambling going for a while. After loosing his own house in a gambling game, Nash died at the home of Julianna Popjoy, his mistress. The house is now the location of Popjoy's restaurant.
Georgian On My Mind

It's hard to imagine the modest town of Bath prior to the building boom that began under the reign of King George II. Architectural highlights include the Royal Crescent (later copied by the Astors for their 1830's town homes in New York), beautiful Queen Square (the first significant expansion beyond Bath's medieval walls), the North and South Parade, and Pulteney Bridge.
At No. 1 Royal Crescent, visitors can tour a three-story townhouse that is a faithful representation of the 18th century. King George the Third's second son, the Duke of York, once rented this home.
One of the loveliest buildings of the period is the Circus. John Wood the Elder designed the Circus, a ring of thirty-three attached houses set on a traffic circle that mimics the round shape of the Coliseum in Rome. The classical façade repeats a series of Corinthian, Doric and ionic columns. John Wood played on the vanity of the original owners by having their faces sculpted in stone above their front doors! The Circus has five hundred carvings that represent the arts and sciences of Bath. Unfortunately, John Wood the Elder died less than a week after laying the foundation stone for the Circus, so his son, John Wood the Younger, finished the project. (For more information on the restoration of a period garden at the Circus, see A Georgian Garden Reborn, by Yvonne Cuthbertson.)
Among the tenants of the Circus was painter Thomas Gainsborough, who lived at number 17 from 1765 to 1774. Gainsborough did a number of fine portraits while living in Bath, and you can enjoy his work at The Victoria Art Gallery. The Victoria Art Gallery features oils from the fifteenth through the twentieth century and decorative art collections of wine glasses, Staffordshire ceramic dogs, and English Delftware.
Working with architect John Wood was Ralph Allen. Ralph Allen came to Bath as a young man. He mined the creamy yellow stone, lighter in shade than Cotswolds stone, for Wood's buildings. Wisely, he arranged for materials such as tile and slate to be brought down the River Avon from Bristol, initiating a new path of commerce. Allen further increased his wealth by managing England's postal service.
Ralph Allen commissioned a gorgeous country house from John Wood, to be built on his Prior Park estate. The stately house is now a school. Visitors can take a bus to the edge of the estate, and walk the Prior Park grounds.
The Blooms of Bath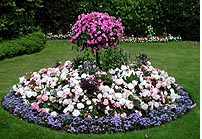 Prior Park's garden was inspired by the poet Alexander Pope, and executed with advice from famed landscape designer "Capability" Brown. The garden is a vista of gently sloping hills, dotted with grazing cattle, with a beautiful Palladian bridge as a focal point. Prior Park is also an excellent place to access the Bath Skyline, a six-mile circular path that loops around the city and affords magnificent views, wildflowers, and sites of archeological interest.
For more manicured gardens, head to Royal Victoria Park. The Botanical Gardens were created in 1887 and feature rock gardens, a pool, scented gardens and a woodland walk. The garden is found on Weston Road and covers nine acres.
The most centrally located garden in Bath is the Parade Gardens. Near Pulteney Bridge, Parade Gardens boasts some of the showiest flowerbeds in the county.
Over Eighteen Museums and Galleries to Choose From...
The Building of Bath Museum is housed in a Gothic chapel built in 1765, and outlines Bath's century of growth from a plain country town to a thriving Georgian city. The museum is a must-see for those interested in architecture, craftsmanship and interior decor. Exhibits cover each detail, from Bath real estate purchases to how wallpaper was manufactured for sitting rooms!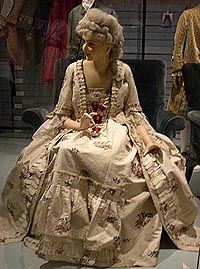 The Museum of Costume showcases 16th century fashions to present day creations by designers like Tom Ford. The exhibits are always fresh, as only 2,000 of the museum's 30,000 pieces are displayed at any time. In addition to displays of period gowns and waistcoats, the museum offers such displays as the history of undergarments, as well as collections of accessories throughout history, such as gloves, scarves and hats. The museum also offers a well-stocked gift shop.
One of Britain's oldest theaters, Theatre Royal, was opened in 1805, and still offers a brisk schedule of year around performances. The city hosts popular festivals throughout the year, such as the Literature and Shakespeare festivals in early spring, the summertime International Music Festival, and Film Festival and Mozartfest in the autumn.
Bath's wealth of fine arts includes the The Holburne Museum of Art. Set in the Georgian Sydney Hotel, the museum took residence in 1916 and displays treasures collected by Sir William Holburne. The collection includes Renaissance bronzes, a miniature of Beau Nash, a sculpture formerly owned by King Louis XIV, and paintings by Turner, Ramsay, Stubbs and Gainsborough.
Savor the city's history of social studies and science, too. A postal museum stands in the exact location where a letter bearing the very first postage stamp, the Penny Black, was sent from on the 2nd of May 1840.
At his home in New King Street, visitors can see where the great astronomer William Herschel studied the stars, using a telescope of his own design. In 1781, the Bath resident exclaimed, "I have looked further into space than any human being did before me." Herschel had just discovered the planet Uranus!
A Traditional Trencher
Sally Lunn's is both the oldest house in Bath and a restaurant. Excavations have revealed Roman and medieval foundations, which were at street level centuries ago. The north cellar has tiles once used for the Roman's under floor heating systems. Unearthed domestic treasures include a mortar and pestle for grinding herbs.
The burnt stone floor reflects fire damage from 1137. It's likely that during King John's visit in 1207 he enjoyed bread baked from the medieval oven on display. Above the cellar museum, Sally Lunn's is a fine example of Tudor style, built in 1482. The slanting, rustic house has a cantilevered staircase. Sally Lunn's was one of the antiquated buildings that Beau Nash would have seen when he arrived in 1705, and its historical value was appreciated even then.
Sally Lunn was a French refugee that arrived in England over 300 years ago. In the 1680's, she became famous for her light, airy, brioche-style buns. Before 1500, trencher bread served as a plate to hold one's meal. The Sally Lunn bun is delicious served trencher-style, topped with braised beef or creamy chicken with vegetables. (Don't worry, your meal will come on a plate!) The Georgians thought of Sally Lunn's buns as a delicacy, and the secret recipe bread is still popular in Bath today.
A Novel Opportunity: The Jane Austen Centre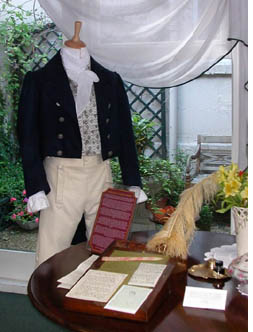 Jane Austen was one of many writers to immortalize Bath. The novelist often visited her maternal aunt and uncle, the Leigh Parrots, who lived at the Paragon. At age twenty-one, Jane penned Northanger Abbey, which follows a naive girl's launch into Bath society. Jane returned two years later and stayed at 13 Queen Square with her brother Edward and his wife, while Edward took the waters for his health. Eventually, Jane's family followed Austen tradition and came to Bath for her father's retirement. Jane preferred the country, but as a single woman of twenty-five without income, she had no choice but to move to Bath with her parents.
The Rev. and Mrs. Austen, with their daughters, Jane and Cassandra, arranged a three-year lease at 4 Sydney Place. Jane loved to walk, and took great pleasure in Sydney Place Garden. In the autumn of 1804, they moved to Bath's Green Park Buildings. Shortly afterwards, Jane's father died. The three women rented rooms at 25 Gay Street, and then lived for a short time at Trim Street, before being invited to live with Jane's brother at his estate in Southampton.
Written in 1816, Persuasion was Jane Austen's last novel. It was Jane's second novel set in Bath, and shows a more mature view of Bath's society.
Austen enthusiasts flock to the Jane Austen Centre located just a few doors down from the former Austen residence in Gay Street. The Centre features vignettes of period dress, large murals of Bath, and illustrates Jane's life, interests, writing career, family and the Georgian era. It is also a one-stop shop for all things Austen. The Centre provides walking tours that include the church where Jane worshipped, her former homes and frequented shopping spots. Even during Jane's lifetime, Bath was renowned for its shops. Shopkeepers dressed their windows with enticing finery. Jane Austen wrote to her sister "about the prettiest hat you can imagine," seen at a shop in Milsom Street.
Still a Place for Fashion...
No respectable lady took new clothes to Bath. Instead, 18th century women would hide in their rooms, dispatching spying servants and studying the fashion pages of the Bath Chronicle. When they determined what colors and styles were in fashion, they dashed off orders from the dressmakers, often in materials only available in Bath. A few days later, they'd emerge in society, looking like everyone else. Like Jane Austen's fashion notes to her sister, letters helped spread new trends throughout the country.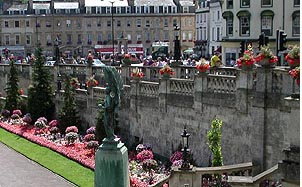 Bath still has some of the best shopping in southwest England, with a greater quality and quantity of shops than a city ten times the size. For the last 700 years, shoppers have enjoyed the leatherwear, cheeses, silver and fresh flowers at Guild Hall Market. Antique lovers adore Bartlett Street Antiques Centre, which has over 12,000 square feet of treasure-hunting space. Rossiter's, set in a 1709 merchant's house in Broad Street, offers very upscale items, such as Moorcraft ginger jars, fine china and Floris perfumes. Built according to Robert Adam's designs in 1771, Pulteney Bridge spans the winding River Avon. Inside, the bridge looks like an enclosed road with antique shops lining either side. Whittards of Chelsea on Union Passage is the perfect place to find exotic teas to carry home, including an oolong that is picked by trained monkeys! Wolcott Street offers bohemian-style, artisan shops, such as The Dress Up Shop, providing fantasy outfits for little princesses and pirates.
Getting There
The elegant city of Bath is a jewel in the English countryside. And it's accessible. High-speed trains bring visitors to Bath from London's Paddington Station in about an hour and a half. Bristol Airport is only 15 miles west. If the weather is fine, you can even arrive by boat on the River Avon. However you decide to get to here, just make sure you don't miss the grace and beauty that is Bath!
Related Articles
The Roman Baths, by Moira Allen

Bath Timeline, by Darcy Lewis

Number 4 Bath Circus: A Georgian Garden Reborn, by Yvonne Cuthbertson

A TASTE OF BATH: Bath Buns, Bath Olivers and Wassail, by Dawn Copeman
More Information:
General Info
Bath Visitor Information

City of Bath: History

UK Student Life - Visit Bath

Weather Forecast

Bath in 360¡

360º Tour of Bath
Attractions
Assembly Rooms and Museum of Costume, Bennett Street

Bath Abbey

Bath Postal Museum, 8 Broad Street

Building of Bath Museum

The Jane Austen Centre, 40 Gay Street

No. 1 Royal Crescent

Prior Park Gardens and Bath's Skyline, South of Bath

Roman Baths and Grand Pump Room

Thermae Spa, Hot Bath Street, City Centre

Victoria Art Gallery, by the Pulteney Bridge

William Herschel Museum, 19 New King Street
Dining and Accommodations
Popjoys, Adjacent to the Theatre Royal on Sawclose

Sally Lunn's, 4 North Parade Passage

http://www.sallylunns.co.uk/
Two minutes walk from the Roman Baths.
Although the exact recipe is a closely guarded secret, English bakers have created a good recipe for Sally Lunn buns that you can make at home. Visit the Green Chronicle online at http://www.greenchronicle.com/recipes/sally_lunn_buns.htm


---
Michele Deppe is a freelance writer and staunch Anglophile. Her hobbies include traveling to nations that value a good cup of tea, riding horses, painting, cooking, and loads of reading. Michele's Best British Travel Tip for summer: "Always pack warm clothes, even if you're going to England in August."
---
Article © 2005 Michele Deppe
Photos: Jane Austen Center, Flowers, Pulteney Bridge © 2005 Michele Deppe; Roman Baths, Bath Abbey, Costume Museum, Royal Crescent © 2003 Moira Allen