Exploring Cornwall's Standing Stones
by Rachel Newcombe
Cornwall is a popular holiday destination, but apart from the obvious tourist attractions, it's also home to a host of ancient relics. For families wanting to explore areas off the beaten track, there's plenty on offer.

Standing stones, stone circles, burial chambers and the remains of ancient villages: Cornwall has all this and much more, making it perfect for families and children keen to learn more about the past. Many ancient relics are still in remarkably good condition and provide an intriguing insight into the customs, culture and rituals of our predecessors.

They can be found across the county in fields, on the moor or by the roadsides and, if you know where to look, they're easy to locate and explore. Although some of the ancient sites are located in the middle of nowhere and necessitate long treks to get to them, there are plenty that are easily accessible and suitable for those not wanting to walk too far, making them ideal for families. An added benefit is that most sites are completely free to go and see, so if you're on a budget you won't need to spend a fortune to visit a variety of places.

Plus, most are usually not swarming with tons of visitors either, so offer a quieter and calmer visit than many of the mainstream tourist destinations. However, if you're still keen to take a trip to any such venues, they're still within easy reach, as is the stunning Cornish coastline and many beaches.

So, which sites are worth a trip?
---
Trethevy Quoit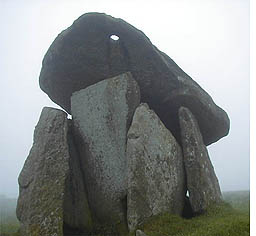 Most people tend to expect ancient relics to be located in the middle of nowhere, far from habitation or modern buildings. However, the highly impressive Trethevy Quoit chambered tomb is situated in a field amazingly close to the back of a row of cottages at St. Cleer, near Liskeard. Aptly known locally as The Giant's House, it is a huge structure with a massive capstone that rests on six uprights, although there were originally seven.
The main chamber measures 2 x 1.5m (6 feet 6 inches x 5 feet) and is currently made up of six main uprights, towering 3m (10 feet) high. The huge slab located at the rear sadly fell forward at some point in the past, causing the massive capstone to tilt forward at its distinct angle.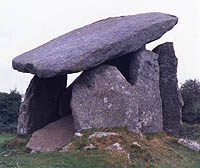 One unusual feature is the doorway, which has been cut out of the entrance stone. According to historical theories, this may have been used to enable bodies to be put into the chamber. This theory is supported by the remains of a mound lying at the base of the structure -- the mound is thought to have originally acted as a ramp to aid access to the chamber for burials.
The massive capstone is 3.7m (12 feet) long and, as it now rests half-fallen, 4.6m (15 feet) high. At the highest tip of the capstone there's a hole, which has provoked much curiosity over the years. Some theories have suggested it could have acted as a porthole for astronomical functions, but the exact reason, and whether it really did have a purpose or not, remain unknown. (Map ref: SX 259 688)
---
The Hurlers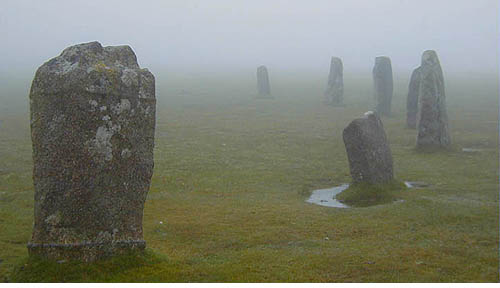 There are several stunning stone circles in Cornwall and The Hurlers Bronze Age Monument on Bodmin moor is no exception. It's located about four miles north of Liskeard at the Minions village and the stones can be clearly seen from the car park.

This is one of the largest prehistoric sites in England and consists of three granite stone circles. The north circle is 35m in diameter with 15 stones remaining (originally there were 24), the middle circle is oval with 14 stones (originally 28) and the southern circle, which has almost been demolished by a cart track, has nine stones remaining from an original 26. The middle and northern circle were once linked together by a granite path, which ran through their centres.

The site is believed to have been strategically built, with the River Fowey to the west and the River Lynher on the east, and would have been an area where traders and travellers visited.

Nearby, to the west of the main circle, there are also two standing stones known as The Pipers. It's possible these could have acted as boundary posts or played a part in astronomy. A quirky legend has it that the stones were men turned to stone for hurling a ball on the Lord's Day (see Cornwall's Mystic Stones for more information on this legend). (Map ref: SX 258 714)
---
Lanyon Quoit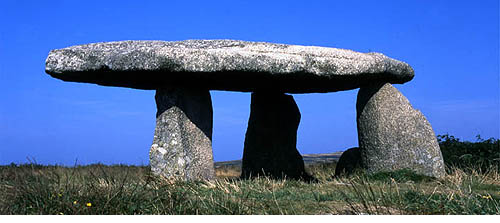 Clearly visible in the distance, yet easy to miss close-up due to the high walls and hedges, Lanyon Quoit chambered long barrow is well worth visiting. It's located close to a minor road from Mardon to Trevowhan and is a Neolithic burial monument, believed to be about 4000--5000 years old. Access is easy via a set of stone steps and it's very impressive up close.
The structure was originally much taller and, according to a mention in William Borlase's Antiquities of Cornwall, in 1769 it was even large enough to ride a horse underneath it. In 1815 it was damaged in a storm and collapsed, due to damage caused to one of the upright stones. However, much to the delight of visitors, it was subsequently re-built by local residents in 1824 and they managed to resurrect three out of the four original upright stones.
Like many ancient sites, there are legends associated with Lanyon Quoit. The most common tale is that giant's bones were found there. (Map ref: SW 430 337)
---
Chysauster Iron Age Village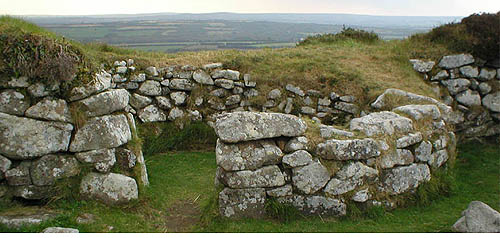 Situated 2.5 miles north west of Gulval, near Penzance, and off the B3311 road, this late Iron Age village is now in the care of English Heritage and is the only ancient location requiring an entrance fee. The village was last inhabited nearly 2000 years ago and consists of a number of courtyard houses, many of which are very well preserved.
The boundaries, garden plots and central street are all clearly visible and the houses share the same basic circular design. Most houses have a round living room opposite the entrance and a long narrow room along one side of the house, but others are built in pairs with circular central rooms and smaller additional rooms at the side. It's possible that these latter rooms may have been used for storage facilities, either food or even animals.
In the main rooms, there's a central flat socket hole where a wooden post would have stood to support the thatched roof. There are also visible remains of various features, such as stone basins where grain would have been ground, covered drains and open hearths.
The whole village provides a good insight into what life so many years ago would have been like. The village also has a fogou (the Cornish word for cave), an underground passage, but it's not as good an example as the one found at Carn Euny. (Map ref: SW 473 350)
---
Merry Maidens

Very few stone circles have survived in their entirety through time, so the complete and well-preserved Merry Maidens stone circle has to be seen. It can be found in a field just off the B3315 road, 4 miles south west of Penzance, and consists of 19 granite stones.

Although the stones aren't as large or imposing as some stone sites -- the tallest is only 1.4m high -- they are neatly placed and form a perfect circle measuring 23.8m / 77ft 10in in diameter. Most theorists do believe the circle remains in its entirety, but there's an intriguing gap in the east of the circle. Whether this was used as an entrance to the circle or could be the site of a missing stone remains a mystery.

Not surprisingly, there's a fascinating legend associated with the Merry Maidens. Allegedly, 19 pretty maidens were on their way to church on a Sunday when they were distracted by the sound of music played by two pipers. They couldn't resist the sound so wandered into the field and started dancing to the music. But as they were in full flow, a thunderbolt came out of nowhere and turned them all to stone, because they dared to dance on the Sabbath.

A field close by, to the north-east of the circle, houses two further standing stones, which are said to be The Pipers. In contrast to the height of the Merry Maidens, The Pipers are tall and tower over the fields surrounding them. In fact, the first stone measures 4.6m (15ft) and is believed to be the tallest ancient stone in Cornwall.

The second Piper can take a bit of looking to find, as it's situated on up the hill and can't be seen when you're standing next to the first Piper. It's also quite tall, measuring 4.3m (13ft 7in) high. Interestingly, neither of The Pipers is visible from the Merry Maidens circle. (Map ref: SW 432 244)
---
Tregiffian Burial Chamber
Tregiffian burial chamber is literally just down the road (B3315) from the Merry Maidens and is easily spotted as it's on the grassy roadside verge. The mound and ring of the burial cairn were partially destroyed by the road in 1846, but the chamber thankfully wasn't affected and remains visible.
Surrounding the chamber are a series of low oval kerb stones that gradually get higher the closer they get to the entrance. Two uprights are at the chamber entrance, over which a large slab lies. One of the uprights has a cupmarked feature, which is worth looking out for. It's actually a copy, though, as the original stone has been removed to the safety of the Truro Museum.
When the chamber was excavated in the past, a large number of bones were discovered, so it was definitely well used as a burial chamber. When you stop to see this site, do remember to take care here, as there's no pavement or railings between the chamber and the road and it can be busy sometimes. (Map ref: SW 430 245)
---
Carn Euny
Carn Euny is another ancient Iron Age settlement that was occupied until the first century AD and it's located 1.5 miles west of Sancreed. The village is in the care of English Heritage but is free to visit, and access is easy via a short walk up a small signposted lane. The foundations of huts which used to dominate the area are clearly visible all across the hillside, although prior to these there would probably have been timber huts.
At first glance it might not seem quite as impressive as Chysauster, but it does have a hidden gem -- an underground passage or fogou. The fogou runs just below the surface of the ground in the middle of the village and is particularly striking, as it's one of the most well preserved examples. It consists of a passage measuring about 20m (65ft) long, a side passage which leads onto a circular walled chamber and a tiny passage, which may have been used as an alternative way out in the past.
The fun aspect is that the main part of the passage can be explored and provides viewing of the circular chamber. Fogous have been found at various ancient sites in Britain, usually close to villages, but as yet their exact purpose is unclear. Various theories have emerged over the years, including the idea that it may have been used for storage purposes, for rituals or even for people to live in. Whatever the purpose, it's great to be able to explore such a preserved example and is sure to capture both young, and old, imaginations! (Map ref: SW 402 288)
Related Articles:
Legends of Cornwall's Stones, by Gareth Evans
More Information:
Ancient Tracks

Stone Pages

Cornwall Online

Cornwall Tourist Board
---
Rachel Newcombe is an award-winning UK-based writer, editor and researcher. She contributes news, features and reviews to a wide range of publications, including BUPA, Allergy magazine, Discovery Health, Child Education magazine, Channel 4, UKTV, Families First for Health and Berkshire's County Child. She's currently editor of a women's health website and involved in the launch of a new lifestyle magazine. She can be found on the web at: http://www.newcombe.co.uk/media.
---
Article © 2005 Rachel Newcombe
Photos © 2005 Dave Farmer (see more prehistoric monuments at Farmer's website, Ancient Tracks - http://www.ancienttracks.co.uk/