Little Venice and the Regent's Canal
by Kavitha Rao
"There is nothing -- absolutely nothing -- half so much worth doing as simply messing about in boats", famously said Water Rat in the Wind in the Willows. Water Rat was speaking of the Thames, but the Thames is not the only place in London where you can mess around with boats. London's canals, a crucial way to transport goods before the railways took over, have been cleaned up and revived in recent years. Walking or taking a boat trip up the scenic Regent's Canal is now one of London's summertime pleasures.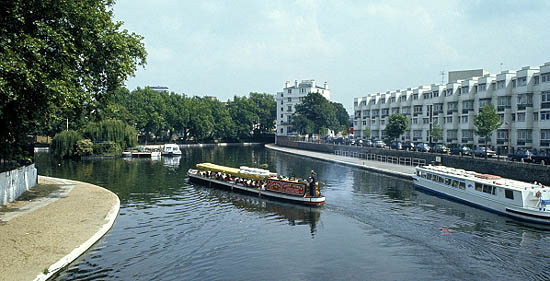 Little Venice, the point where Regent's Canal meets the Grand Junction Canal, is a good place to start. It may not have quite the glamour of Venice, but it has its own picture-postcard charm. The canal is lined with weeping willows, and flanked by graceful stucco Regency mansions, many designed by the celebrated architect John Nash. On a sunny day, there's nothing finer than sitting in a canal side cafe, as sunlight glimmers on their brilliant white columns. Houseboats and barges in bright red, dark green or navy line the canal, with names like "Maurice, "Old Badger" and the "Scarlet Pimpernel". Some have window boxes spilling over with geraniums, others elaborately decorated nameplates. Ducks and geese swim along the canal, and you may see a heron or two. An island in the centre is called Browning's island, after the poet Robert Browning who lived nearby.
The Regent's Canal was originally built to link the Grand Junction Canal's Paddington arm with the Thames. It was named after the Prince Regent, later King George IV. It was opened in 1820 at a total cost of £772,000, twice the original budget. It faced several engineering glitches in its first year, but later became an important artery for cargo passing through London.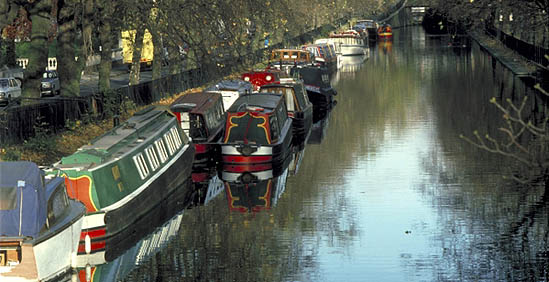 You can either walk or take a boat up the canal, with several operators offering guided boat or walking tours. Two of the better boat operators are the London Waterbus Company and Jason's Canal Trip. The walk up the entire canal is eight and a half miles, but a good appetizer is to walk the two miles from Little Venice to Camden Lock, which should take you about an hour. Beginning at Little Venice, the canal wends its way past the striking aviary of London Zoo (designed by Lord Snowden) and the outskirts of Regent's Park, before ending in the bohemian area of Camden Lock, known for its street markets and hippy chic.
On the way, look out for Macclesfield Bridge, more commonly called "Blow up Bridge". In 1874 a barge carrying gun-powder exploded as it passed under the bridge, destroying the structure and killing three crewmen. The bridge was reconstructed, but the imposing Doric columns were put back the wrong way around. At Lisson Grove, there is an interesting mooring site for houseboats, which will give you a chance to study the traditional iron-bottomed narrow boats used for transport in the old days. Some of these have been restored and display traditional crafts and decorations.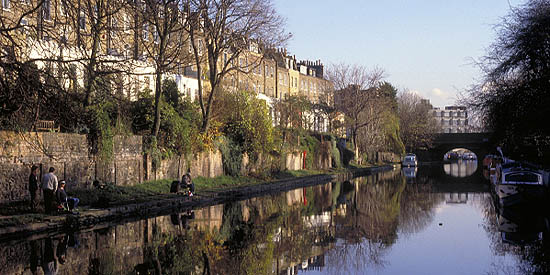 If you have children, they may enjoy visiting the Puppet Theatre Barge at Little Venice, which stages traditional puppet shows on board a houseboat. Or if you can't get enough of the canals, visit the London Canal Museum. Here you can see inside a narrow boat cabin, learn about the history of London's canals, and find out more about the people who lived and worked on the waterways. You can also see a huge Victorian ice well used to store ice imported from Norway and transported up the canal. The museum is housed in a former ice warehouse built in 1862 for Carlo Gatti, the famous ice cream maker.
Nearest underground station: Warwick Avenue.
More Information:
Jason's Canal Trip

London Canal Museum

London Waterbus Company

Puppet Theatre Barge
---
Kavitha Rao is a freelance writer who has lived and worked in Mumbai, Bangkok, Hong Kong and Tokyo. She currently lives in London, and doesn't think she will ever tire of it. Her articles on culture, travel, literature and lifestyles have appeared in the Daily Telegraph, Asiaweek, the South China Morning Post and the Far Eastern Economic Review, among others.
---
Article © 2005 Kavitha Rao
Photos courtesy of Britainonview.com