Hatfield House: Childhood Home of Queen Elizabeth I
by Tori V. Martínez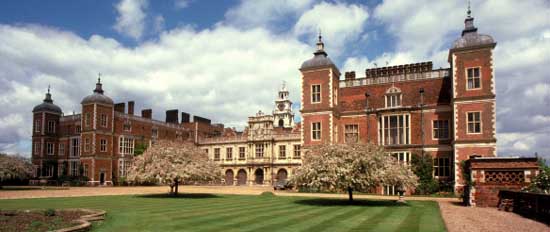 On November 17, 1558, Lady Elizabeth Tudor was sitting beneath an oak tree at her Hatfield estate -- either reading or eating an apple -- when she received the news that she was Queen of England. We're told that as the courtiers who came bearing the news bowed before their new queen, Elizabeth got on her knees and said in Latin, "This is the Lord's doing, and it is marvelous in our eyes." Within hours, Queen Elizabeth I's councilors had gathered around her for her first Council of State, held in the Great Hall of The Royal Palace of Hatfield. One of those councilors was William Cecil, Elizabeth's trusted friend and chief advisor whose family name would eventually become closely tied to Hatfield. For several days, Hatfield played host to the influx of courtiers and the Great Hall was the forum for the many meetings, appointments and confirmations vital to a new reign. Elizabeth officially addressed her councilors and courtiers for the first time as Queen in the Great Hall, seated on her throne under the canopy of estate. On November 23, barely a week after she sat unknowing under that tree, Elizabeth left Hatfield, accompanied by her entourage of more than 1000, for London, returning to her childhood home only rarely.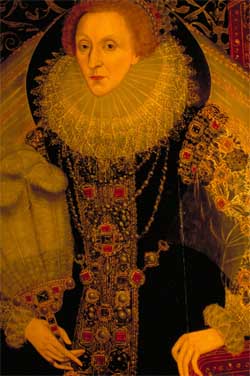 For many, this is the sum total of their knowledge of Queen Elizabeth I's connection to Hatfield, but there is far more to it than that. Unlike her mother Anne Boleyn, who spent precious little time at Hever Castle, Elizabeth perhaps spent more time than she might have liked at Hatfield. At only three months old, she was given the royal palace as her own private household away from her parents and managed by a staff of nurses, courtiers and tutors. A little over 20 miles from London in Hertfordshire, Hatfield was just far enough away to be the ideal location for the superfluous little princess. It was also the ideal location for Henry VIII to place his now illegitimatized daughter, Lady Mary, as lady-in-waiting to her younger half-sister. It's unlikely the situation was a very happy one, as Mary must have resented both her demotion and forced service the child who had displaced her. On the rare occasions that Elizabeth's mother, Queen Anne, visited her daughter at Hatfield, the tension between Mary and Anne must have been bitterly palpable. Not that Elizabeth would have noticed it much -- she was far too young to comprehend the situation and, before she was even three, her mother had been executed and Elizabeth illegitimatized alongside Mary.
Now a mere "Lady," Elizabeth was virtually ignored by her father and for some time lived an isolated existence at Hatfield, often lacking what was essential to daily life, including clothing that fit her. She did manage to get an excellent education, however, and her life gradually began to improve with the birth in 1537 of her half-brother Edward, who also lived at Hatfield for some time, and with Henry VIII's marriage to his sixth wife, Katherine Parr, in 1543. Thanks to Katherine, both Elizabeth and Mary were reunited with their father and, in 1544, reinstated in the line of succession after their younger brother. After Henry's death in January 1547, Elizabeth lived for a time with Katherine Parr at Sudeley Castle in Gloucestershire, but following allegations that Katherine's new husband, Lord High Admiral Thomas Seymour, was becoming a bit too intimate with Elizabeth, she returned again to Hatfield.
Under the reign of her sister Mary, Elizabeth alternated between a seemingly pleasant virtual imprisonment at Hatfield and real imprisonment at the Tower of London and Woodstock. The official guide book to Hatfield House tells us that, while there, Elizabeth is known to have enjoyed "a gorgeous masque and play being given for her entertainment in the [Great] Hall." That masque prompted Queen Mary to send Elizabeth a message that "such frivolous activities must be discontinued," although Mary visited Elizabeth at Hatfield the following year and was "entertained by a varied programme including a play, a bear-baiting and the singing, accompanied by Princess Elizabeth herself, of a famous boy soprano called Maximilian Poynes." Such contradictions seem to reinforce the idea that Mary was struggling with a great many conflicting emotions. Even still, dealing with the nuances of Mary's personality from the relative safety of Hatfield must have been far more preferable to Elizabeth than facing an unsure future as her prisoner elsewhere.

Today there are actually two Hatfields -- the newer Hatfield House and the original Royal Palace of Hatfield. Unfortunately, all that remains of the old palace that was inhabited by Elizabeth is the Great (or Banqueting) Hall where she held that historical Council of State in 1558. The Great Hall was just one side of the old palace, originally called Hatfield Palace, which was built between 1485 and 1497 by John Morton, Bishop of Ely, but was confiscated by Henry VIII after the dissolution of the monasteries. After Elizabeth's death in 1603, Hatfield passed into the hands of her successor, James I of England, but the new king didn't care for it, so a trade was arranged with Robert Cecil -- James would take the Cecil family home, Theobalds, and Cecil would take Hatfield.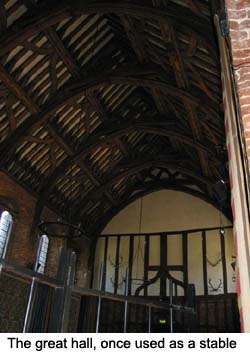 It was an interesting twist of fate considering that Robert Cecil was the son of William Cecil, Elizabeth's trusted advisor and Chief Minister who had joined her at Hatfield on the day of her accession to the throne. Robert had proved himself an equally trusted advisor to Elizabeth and was appointed Secretary of State in 1590 and the Queen's Chief Minister after the death of his father in 1598. Robert continued on in that capacity under James I, who raised him to the peerage in 1603 as Baron Cecil of Essendon, then Viscount Cranborne in 1604 and, finally, Earl of Salisbury in 1605. As the new owner of Hatfield, Robert expressed little sentimentality over the palace's historical or familial connections and, in 1608, demolished three sides of the old palace to make way for a more modern structure, Hatfield House, which was actually built with the bricks from the old palace. The Great Hall alone was left standing and for centuries it served the undignified function of a stable. The beautiful original roof timbers bear the scars of that period -- according to the guide book, they're "peppered with gunshot, apparently because sparrows flew in and out when the stable doors were left open."
For centuries, life at Hatfield went on in this way -- the beautiful new Hatfield on one side and the misused old Hatfield on the other. The fortunes of the Salisbury family continued to rise and, in 1789, the 7th Earl, James Cecil, was elevated in the peerage to a marquess. Eventually, the 4th Marquess of Salisbury (1861-1947) saw fit to restore the old palace to its former glory. Today, the Great Hall has regained its dignity and is home to Elizabethan banquets, weddings and other special events. It's also surrounded by a stunningly beautiful knot garden, which was created in 1984 by the 6th Marchioness. The "newer" Hatfield House is today occupied by the 7th Marquess of Salisbury and his family.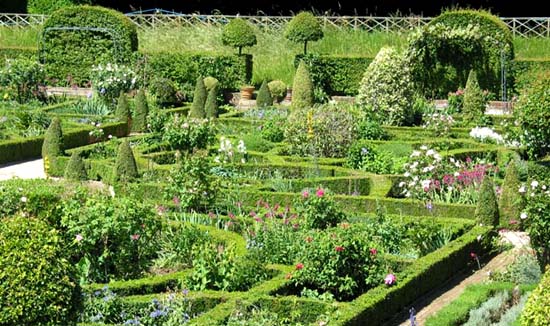 Hatfield boasts extensive grounds that are absolutely saturated with exquisite gardens -- including a Maze Garden -- as well as parkland and its own lake. Hatfield is also supposedly haunted by its former royal resident, as well as by a "veiled lady," and a mysterious "spectral coach" led by "ghostly horses" that occasionally makes its way up the drive to the house, through the doors and up the stairs. Back in this world, Hatfield is almost entirely devoid of the more touristy aspects of many castles. About the only disappointment at Hatfield is that touring of the Great Hall is limited to viewing it at a slight distance from an alcove. That sense of disappointment can be easily assuaged, however, by both the beauty of Hatfield House, which is an excellent example of Jacobean architecture and interior design, and by the many reminders of Elizabeth I that are scattered throughout. Among these are a hat, pair of gloves, and pair of silk stockings that are said to have belonged to her, and the impressive and iconic Rainbow Portrait of the Queen, which was painted around 1600. But perhaps the most important aspect of Hatfield is that it is one of the few former residences of Elizabeth I that still exists, even in part, today.
Perhaps it's this feeling of personal connection with Elizabeth I as you walk through Hatfield House that makes this place so special among Britain's many historic royal homes.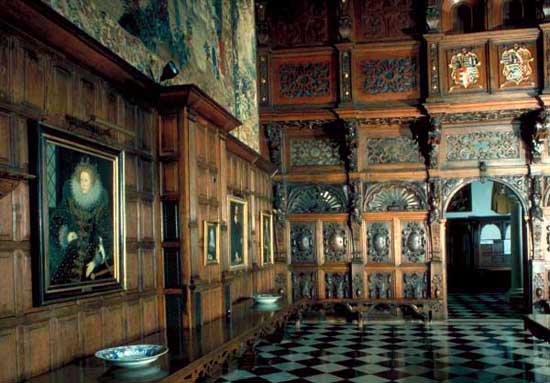 More Information:
Hatfield House

The Rainbow Portrait of Queen Elizabeth I
---
Tori V. Martínez is a writer and freelance public relations professional who spends as much time as possible researching and writing on her favorite subject -- history. Several years ago, Tori eschewed the life of a full-time career woman to travel and live around the world, particularly in Britain, where she spent considerable time exploring and researching historic destinations. At the moment, she is living in the US with her husband -- a Spaniard she met in England -- and is happily writing for a variety of online and print publications. For more about Tori, visit http://www.globetrottingbroad.com.
---
Article © 2006 Tori V. Martínez
Old/New Hatfield, Garden, and Great Hall photos by Tori V. Martínez; additional photos courtesy of BritainonView.com