Gawthorpe Hall -- Legacy of the Shuttleworths
by Tori V. Martínez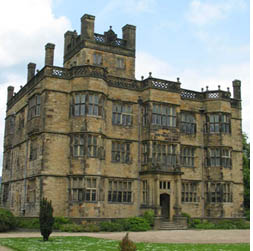 Starting in the reign of Queen Elizabeth I and ending in that of Queen Elizabeth II, Gawthorpe Hall embosomed the lives of one family -- the Shuttleworths -- for nearly 400 years. Today, this marvel of late Elizabethan architecture seems to emote the history and legacy of a family that came from relatively modest origins, built a fortune, overcame civil wars and tragedy, entertained royalty and, finally, left a palpable modern legacy.
Located between Padiham and Burnley near the Pennines in northeast Lancashire, Gawthorpe Hall is not the rambling palace of English aristocracy, but rather the stately home of an upwardly mobile family with deep roots in the local community. The sprawling rolling hills on which Gawthorpe stands was once part of a permanent Anglo-Saxon settlement that eventually became home to the royal Ightenhill Manor and the surrounding Pendle Forest, where the king's deer grazed. Around the time of King Edward II's visit to Ightenhill in 1323, a four-story square pele (or peel) tower with walls eight feet thick was erected at the western end of Ightenhill Manor to serve as a lookout for invading Scots.
In 1388, Ughtred de Shuttleworth acquired 25.5 acres of land on the banks of the River Calder, including the land surrounding the tower. As a younger son of Henry de Shuttleworth of Shuttleworth Hall in neighboring Hapton, Ughtred would certainly have been considered a member of the landed gentry and, by growing corn on the Gawthorpe estate, was also a gentleman farmer. But as respectable as the Shuttleworth name was in Ughtred's time, a series of fortunate marriage alliances by his descendents over the next 200 years helped to make the Shuttleworths one of the pre-eminent families of the area.
Within six generations, Ughtred's descendent, Sir Richard Shuttleworth, was a wealthy and successful London barrister who had been made a Serjeant-at-Law -- an English barrister of the highest rank -- in 1584 and Chief Justice of Chester in 1589. The wealth and landholdings of the Shuttleworth family had increased so much they were asked to lend money to Queen Elizabeth I in 1588 and 1597. Despite the rise in the family's fortunes and the addition of further lands at Gawthorpe, the major landmark on the property was still the peel tower. After Sir Richard inherited the Gawthorpe lands on the death of his father in 1596, he began making plans to expand the old tower into a residence, and it's believed that he hired Robert Smythson, the architect of Hardwick Hall in Derbyshire and Longleat in Wiltshire, to design the new hall. Sir Richard died in November 1599 before he could carry out his plans, but the project was continued by his younger brother, the Reverend Lawrence Shuttleworth, who laid the foundation stone of Gawthorpe Hall on August 26, 1600.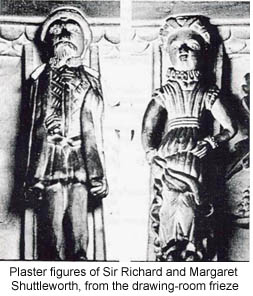 For nearly two years, the exterior of the new hall was built using sandstone quarried in Padiham and incorporating the old tower, which was raised more than two stories and can still be seen rising up from the center of the structure. After the exterior was completed in mid 1602, it took another four years to fit out and furnish the interior. Finally, near the end of 1606, Gawthorpe Hall was complete. Although Sir Richard had not lived to see the culmination of his vision, he was not forgotten within its walls. In 1605, two Yorkshire plasterers, Francis and Thomas Gunby, created an ornate plasterwork frieze in the dining room (repurposed in 1816 as the drawing room) that included plaster figures of Sir Richard and his wife Margaret, which alternate with half-human and animal figures. Amazingly, the frieze is still in excellent condition today, 400 years after it was painstakingly created.
Although the new Hall was technically complete, it's considered unlikely that Lawrence ever actually lived there, since he died in February 1608. Like his brother before him, Lawrence didn't have any children, so Gawthorpe passed to his nephew, Colonel Richard Shuttleworth -- the first official resident of Gawthorpe Hall and also one of the most celebrated early members of the Shuttleworth family. Richard (b. 1587) lived at Gawthorpe Hall for more than 60 years, along with his wife and their 11 children, who were all born there. During that time, he served as High Sheriff of Lancashire in 1618 and 1638, was elected MP for Preston in 1641, and, most significantly, was made a colonel of the parliamentary army when the English Civil War started in 1642. Richard's responsibility as colonel was to defend northeast Lancashire from the royalists, which meant that Gawthorpe Hall soon became a meeting place for local parliamentarian leaders and forces. During the war, Richard won a critical victory over the royalists when 400 of his men defeated 4,000 royalist troops at Read Bridge. In the process, he may also have saved Gawthorpe from possible capture and destruction, as the royalist troops had been advancing toward Padiham at the time.
Despite fighting against the royalists in the Civil War, Richard continued to thrive after the Restoration and left his substantial estates to his eldest grandson, another Richard (b. 1644), who had been brought up in Yorkshire. When the younger Richard died at the age of 36, his son -- yet another Richard -- inherited Gawthorpe Hall. This Richard (b. 1666) seemed to have a promising future when he inherited the Hall in 1681. He married a young heiress in 1682 and was knighted by King Charles II at Windsor on June 15, 1684 -- the second of his family to be so honored. But tragedy struck in 1687 when his father-in-law died, followed only weeks later by Richard himself, with both deaths occurring at Gawthorpe. For three generations, the Shuttleworth family lived elsewhere until, finally, in early 1816, Robert Shuttleworth (b. 1784) made Gawthorpe Hall his home.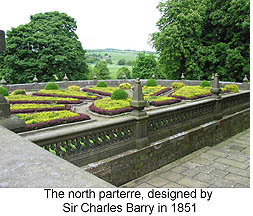 In November of 1816, Robert married the daughter of a Scottish baronet, who bore him a daughter, Janet, in late 1817. Once again, it seemed that prosperity and a happy family would again fill the halls of Gawthorpe Hall. Sadly, tragedy again struck the Shuttleworth family in March 1818 when Robert died following a carriage accident. The infant Janet, now heiress to Gawthorpe, was brought up in the south of England, but returned to Gawthorpe after her marriage to Dr. James Phillips Kay, a renowned educationalist, in 1842. Janet's new husband added the Shuttleworth name and arms to his own, thus changing the family name to Kay-Shuttleworth, and the couple set to work refurbishing Gawthorpe Hall. In April 1849, James commissioned Sir Charles Barry, the architect of the Houses of Parliament, to carefully restore the house following the original style. Sir Charles also restored the grounds of Gawthorpe Hall to more consistently conform to the Elizabethan style, and the north parterre is probably very similar today to what it was when he created it in 1851. Just as Sir Charles was renewing Gawthorpe Hall to its former glory, so were the Kay-Shuttleworths breathing new life into it. Already members of high society, the family's status was elevated on December 22, 1849, when James was created a baronet. In March 1850, James and Janet played host to Charlotte Bront', who had anonymously published "Jane Eyre" only three years before. Charlotte visited Gawthorpe again in January 1855, just two months before her death on March 31, and her association with the Hall makes it a popular stop on the Bronte Way to this day.
The story of Gawthorpe Hall seemed to come full circle following the death of Janet in 1872, when her eldest son, Ughtred Kay-Shuttleworth -- named for his 14th century ancestor -- inherited his mother's estates. The Victorian-era Ughtred lived at Gawthorpe Hall with his wife and six children and had a thriving political career that saw him serve as Liberal MP for Hastings from 1869 to 1880, and for Clitheroe from 1885 to 1902, when he was elevated to the peerage as Baron Shuttleworth (1st Lord Shuttleworth) for his political services. Between 1908 and 1928, he was Lord Lieutenant of Lancashire and it was in this capacity that he entertained King George V and Queen Mary at Gawthorpe Hall in 1913.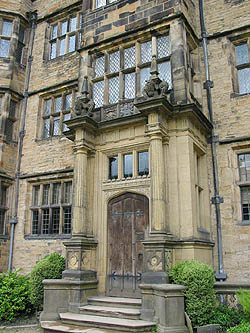 For all Ughtred's seeming good fortune up to time of the royal visit, the following years saw great tragedy for the Shuttleworth family. In 1917, both of Ughtred's sons were killed in action during the First World War, with each leaving behind a young family. Following these two tragedies, Ughtred retired to his estate in Barbon, where he died -- blind and bedridden -- at the age of 95 in 1939. Barely a year after becoming the 2nd Lord Shuttleworth, Ughtred's eldest grandson Richard was killed in the Second World War. He was succeeded by his younger brother, but he too died in the war in 1942. The title then passed to a cousin, Charles Kay-Shuttleworth, who became the 4th Lord Shuttleworth and came to live at Gawthorpe Hall following the end of the war.
Lord Charles had been badly injured in the war, suffering the loss of one leg and the paralyzation of another, and, after marrying in 1947, it was decided that the house was not a practical environment considering his disabilities. The family moved to Leck Hall near Kirkby Lonsdale in Cumbria and left Gawthorpe Hall in the care of Lord Charles' aunt, the Honorable Rachel Kay-Shuttleworth. The daughter of Ughtred, Rachel was born in 1886 and had lived most of her life at Gawthorpe. She was also the last member of the family to live at the Hall and it seems appropriate that she also died there in 1967. Just five years later, Lord Charles passed ownership of Gawthorpe and the surrounding lands to the National Trust and Leck Hall officially became the Shuttleworth family seat.
Today, Gawthorpe Hall is not only a jewel of Elizabethan exterior architecture and Jacobean interior design, but also a living monument to the Shuttleworth family. Much of the Hall's original Jacobean and Victorian furniture is currently on display and does much to give it the sense of a historic home truly captured in time. The Hall is also the home of the finest collection of textiles outside the Victoria & Albert Museum in London -- the legacy of Rachel Kay-Shuttleworth. The addition of a number of 17th century paintings from the National Portrait Gallery on display throughout the Hall beautifully round out the interior attractions, while outside, the extensive grounds offer plenty of room for exploration, starting with the old gate house at the entrance.
Gawthorpe Hall is open March 25 to March 31 from 1 and 5 pm all week, and from April 2 to November 2 from 1 to 5 pm, except on Mondays and Fridays. The gardens are open all year round from 10 am to 6 pm.
More Information:
Gawthorpe Hall

Further reading:

The Shuttleworths of Gawthorpe, by Michael P. Conroy (1999)
Backcloth to Gawthorpe, by Michael P. Conroy (1996)
---
Tori V. Martínez is a writer and freelance public relations professional who spends as much time as possible researching and writing on her favorite subject -- history. Several years ago, Tori eschewed the life of a full-time career woman to travel and live around the world, particularly in Britain, where she spent considerable time exploring and researching historic destinations. At the moment, she is living in the US with her husband -- a Spaniard she met in England -- and is happily writing for a variety of online and print publications. Tori also writes TimeTravel-Britain.com's Royal Retreats column. For more about Tori, visit http://www.globetrottingbroad.com.
---
Article and photos © 2005 Tori V. Martínez
Frieze photo courtesy of Grimshaw Origins and History web site (http://www.grimshaworigin.org)