A History of Britain in Its Pub Signs, Part I
by Elaine Saunders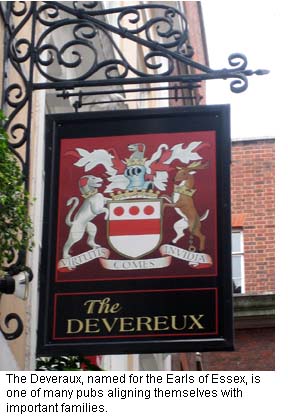 As far as time-travel goes, a walk down any High Street in Britain can take an explorer back across centuries.
Few people realise that two thousand years of history is hanging over their heads, and that the humble pub sign can hold the key to a town's past. Pubs were rarely named by accident but were inspired by religion, royalty, heroes and the occasional scandal. Knowing how to read the signs means that any visitor can unlock the history of the inn and learn a great deal about its former customers.
When the Romans invaded Britain in AD43 they brought hot baths, straight roads and the first real pubs with them. In Rome, landlords of these tabernae hung bunches of vine leaves outside as a simple sign but, upon reaching Britain, they had to improvise. They used any evergreen plant and it's still possible to find pubs called The Bush or The Hollybush up and down the country.
Roman roads such as Fosse Way and Ermine Street opened up Britain to long-distance travel and large numbers of troops moving around the country needed to be fed and watered along the way. Roadside inns opened at regular stages -- much like today's motorway service stations -- where travellers could find food, drink and sometimes a bed for the night. Modern roads still follow the route of these ancient highways and it's not inconceivable that some of the roadside inns have been on the same site for centuries.
By the 12th Century large groups were once more taking to the roads, this time in pursuit of pilgrimage. Following the murder of Thomas à Beckett in Canterbury, pilgrimages to his shrine, and other cathedrals around the country, became fashionable. One such journey was described by Chaucer in his Canterbury Tales in which pilgrims set out from the Tabard in London, a real inn of the time.
Traditionally, travellers sought overnight accommodation in the many monasteries along the way but the numbers became so great that the monks could no long cope with the influx. Enterprising locals therefore set up private inns and took religious names to imply a monastic connection. However, the population was largely illiterate so pictorial signs were used to advertise the inns instead of lettering. The images were probably copied from churches' stained glass windows -- the pictures of saints, angels and arks being both familiar and easy to reproduce.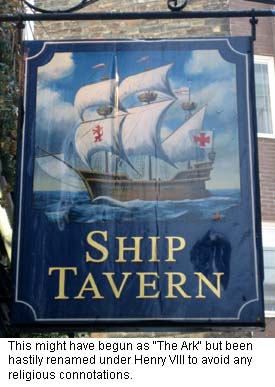 These religious influences on British pub names would have continued indefinitely had Henry VIII not been desperate for a male heir. Realising that Catherine of Aragon could not give him a son, he sought to divorce her and marry Anne Boleyn. When the Pope refused, Henry broke from the Catholic faith and established his new Church of England in the 16th Century. He systematically destroyed the monasteries and confiscated their wealth whilst pubs rushed to change their names to eradicate any Catholic links. Arks became Ships and St Peter, the guardian of the gates of Heaven, became the Crossed Keys. Many more landlords played safe by adopting loyal names like the Kings Arms or Kings Head.
Henry VIII sold off the monastery lands to the highest bidder and granted peerages to his supporters so some landlords aligned themselves with the new incoming lord of the manor, giving us names like the Devereux Arms or the Duke of Norfolk.
The king was also a great sportsman, a fact celebrated in pub signs. Near hunting grounds there are plenty of pubs called The Greyhound (Henry's favourite hunting dog) or The Bird in Hand for his love of falconry. Other common sporting signs include the Fox & Hounds, Dog & Duck or Hare & Hounds.
Landlords soon realised that pub signs could also advertise the entertainment on offer. Ye Olde Fighting Cocks in St Albans is a perfect example and claims to be the oldest pub in Britain. It used to be the dovecot for St Albans Abbey but after the Dissolution of the Monasteries, a clever businessman realised its circular shape would make it the perfect venue for cock-fighting. Many pubs with cock in the title would have held cock fights whilst the Bull advertised bull-baiting and the Bear bear-baiting.
Yet more pubs associated themselves with the area's predominant trade as a way of gathering custom, such as the Golden Fleece (for the local wool trade). Bricklayers, Blacksmiths and Carpenters Arms were meeting places for local tradesmen and often acted as unofficial employment exchanges. A craftsman moving to the area would seek out such a pub where the landlord could introduce him to an employer or extend credit until he established himself in business.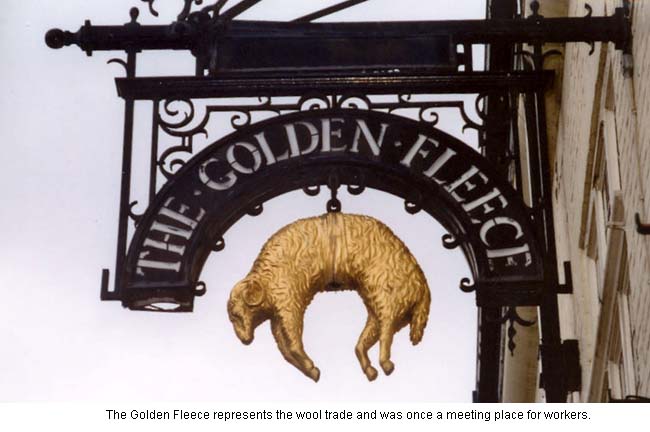 Landlords regularly offered banking services to customers and allowed employers to pay their workers on the premises. By the 18th century, the larger inns on stage-coach routes had become sophisticated commercial centres with strong rooms, storage facilities and lines of credit for businessmen.
Pub signs now began advertising the services on offer to the hundreds of passenger coaches and commercial vehicles. Coach & Horses, Horse & Groom, Wheelwrights and Farriers Arms sprang up along the major routes. It's easy to recognise a former coaching inn as many still have high arches from the street to the stable-yard behind, where grooms, porters, coach-repairers and blacksmiths worked hard to keep traffic moving.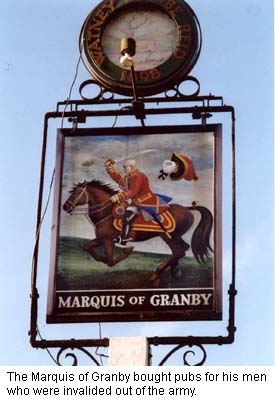 However, not only the tavern owners flourished -- highwaymen made the most of the rich pickings and are occasionally remembered on pub signs. One such was Lady Katharine Ferrers of Markyate, Hertfordshire, who turned to highway robbery out of boredom and to repay her gambling debts. She preyed on the main London to Birmingham road, relieving one traveller of today's equivalent of £60,000. Most highwaymen would kill for a few coins, however. The Wicked Lady at Wheathampstead, Hertfordshire, stands on the spot where she was fatally wounded in 1660.
The Industrial Revolution brought untold wealth to Britain and commercial traffic increased hugely. Industrialists abandoned the roads and built canals to carry coal and raw materials to their factories. Pubs like the Waterway or the Navigation were built along the banks to serve the watermen, many of whom lived on their boats with their families. But by 1850, the faster, cheaper railways had superseded the canals and every town soon boasted its Railway Tavern or Station Arms.
Pub signs have also been used as affectionate tributes and commemoration. Heroes like Nelson and Wellington have pubs named after them, as do famous battles, ships and naval engagements. One affectionate tribute is reserved for the Marquis of Granby, a British army commander much loved by his men. In the 18th century there were no army pensions and, rather than let his men starve, he bought pubs for every one of his disabled non-commissioned officers. He died over £37,000 in debt (£4million today) but the many pubs bearing his name are a fond memorial.
Pub signs are collectively a unique record of Britain's history -- religious, industrious and scandalous. Many are also beautifully-crafted works of art on public view. So the next time you're walking down the High Street, make sure you stop, look up and read the signs. There's a world of stories hanging over your head.
Related Articles:
A History of Britain in Its Pub Signs, Part II, by Elaine Saunders

The Historic Pubs of London, by Pearl Harris

Haunted Pubs of England, by Dr. Gareth Evans

A Beginner's Guide to British Pubs, by Graham Hughes
More Information:
Brewery Artists Pub Signs

http://www.breweryartists.co.uk/
A wealth of examples of pub signs, plus the history of pub signs and pub sign painting, from the now-extinct Brewery Artists and Whitbread Studios.
---
| | |
| --- | --- |
| | Elaine Saunders is a freelance writer based near London. Find out more about the history of pubs and pub names in her e-book, A Book About Pub Names, which contains over 100 illustrations together with dozens of links to specialist websites. It's a comprehensive guide to the history of Britain's pubs and pub signs with chapters on their history, old trades and occupations and drinking measures. For a free extract and details of how to buy visit http://www.completetext.com/ebooks.html. |
---
Article and photos © 2008 Elaine Saunders