Christmas Through the Centuries at the Geffrye Museum
by Helen Gazeley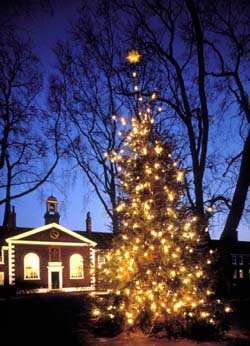 London's East End has a reputation for being grimy and run-down, and the area of Shoreditch -- deep within it -- isn't picturesque. However, for those who will venture this far, there is a treat awaiting, especially at Christmas.
Set behind a high wall and tranquil lawns, the Geffrye Museum (pronounced Jeffrey) is an oasis amidst apartment blocks and busy roads. A lovely example of the charm and elegance of 18th-century architecture, it was built as a row of almshouses in 1715, for the widows of members of the Ironmongers' Company, one of London's craft guilds.
Today it houses the only museum in Britain to specialise in domestic interiors of the urban middle-classes, giving an idea of how people like merchants, lawyers, doctors and wealthy manufacturers would have lived.
A jewel at any time of year, at Christmas it positively sparkles. Each room is dressed for the season as it would have been during its period. From the Elizabethan Room (1580-1640), where candlelight reflects gently in polished oak surfaces, you pass through Georgian elegance, the increasing clutter of the Victorian decades, and finally the cleaner, brighter lines of the 20th century. The changing decorations reflect the changes in Christmas itself. And there is plenty of information on the reasons behind our customs and decorations, old and new.
In the early rooms Christmas decoration is evergreen. In those days, fir, holly and ivy were cut from the nearby hedgerows and woods, and still carried old pagan ideas of everlasting life. As the emphasis at this time was on feasting and revelry, rather than gift-giving, the rooms are laid with careful replicas of food and sweetmeats.
The Georgian rooms are more restrained. Christine Lalumia, Deputy Director of the museum, explained, "This period was really a low point for Christmas." People went to church and perhaps invited a neighbour or two to dinner, but nothing more. "It just wasn't celebrated in stylish London rooms."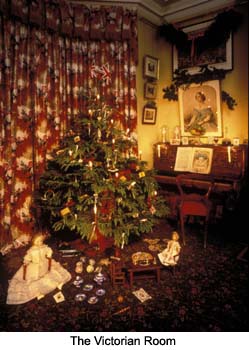 But pass into the Victorian rooms, and Christmas explodes into a very recognisable celebration. Trees, cards, carols and gifts -- all that we associate with the festive season -- arrived during the queen's long reign. Prince Albert is often said to have introduced the Christmas tree to Britain. This isn't strictly true as Princess Charlotte, the German wife of George III, introduced it to court in the 1790s. But after pictures were published in 1848, showing Queen Victoria and Prince Albert with a decorated tree, everybody wanted one. We've never looked back.
The early trees were small, however. And in the first Victorian room (1840-1870) the tree is generally to be found in a pot on the table. This is because the first trees were imported from Germany and too expensive for people to afford anything bigger. Wait for the Edwardian Room (1900-1914) to find one touching the ceiling.
And the presents are unwrapped. Large items were placed under the tree, small ones hanging from its branches, with only tags attached to indicate the recipient. It looks strange now, but gift wrapping didn't take off until the twentieth century.
The unwrapped toys make the rooms look particularly homely, though, and the newest addition is an original teddy bear, to be found in the Edwardian Room. "That was real coup," said Christine. "We got it from an old gentleman who'd been given it as a child." Another favourite of hers is the Noah's Ark from Germany. Look out for it lovingly laid out in the first Victorian Room. "It's enchanting, and says a great deal about the German vision of the animals at that time."
Other items to watch for are the nineteenth-century Christmas cards -- often not displaying the seasonal subjects we expect today -- and the rare artificial Christmas tree, to be found in the 1930s Room.
The annual Christmas exhibition is now in its 16th year. Christine has worked at the Geffrye for 15 years and was an advocate of the show from the start. "People said we couldn't research Christmas because it wasn't an academic subject, but we wanted to look at it seriously, at its manifestations in the domestic setting."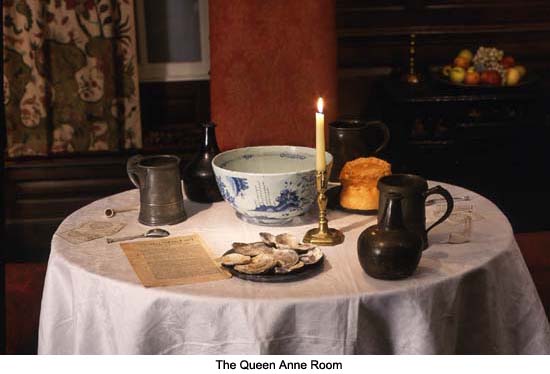 It has certainly proved its popularity. "Each year the exhibition changes a little. We tease together more evidence, gain new exhibits, find a slightly different approach." Visitors return each year to see what's new, and for many it's become part of their celebration of the season. Christine added, "We do have a lot of American visitors too, as it's a perfect way to gain an impression of an English Christmas."
If, at first glance, the Geffrye Museum seems a bit of a trek, consider combining it with a visit to a nearby attraction. Spitalfields, with its old market hall and eighteenth-century buildings, is a short bus journey to the south (or a twenty-five minute walk). Do this trip on a Tuesday or Sunday and you'll be able to see inside Christ Church, Spitalfields, the magnificent church by Nicholas Hawksmoor, which has recently been completely renovated.
Entry to the Geffrye Museum is free, and nowadays, when Christmas can seem so very commercial, it's heartwarming to look back at centuries of tradition. It's likely that you'll come away with a better understanding of today's customs, and even a few ideas to add to your own celebration.
History of the Geffrye Museum and Shoreditch
In 1715, the area east of the City of London was rural: fields cultivated by market gardeners, growing fruit and vegetables for London markets. In the midst of these fields was Shoreditch, a small village on the crossroads of two Roman Roads out of London, and it was on one of these, the old Ermine Way heading north, that the Ironmongers built 14 almshouses for widows of their Company's members.
Each house had four rooms, providing a retirement home for up to 56 pensioners. Recently restored, one of these almshouses has been furnished to show the different living conditions for 18th and 19th century pensioners -- life became much more comfortable!
In 1910, the building was almost lost. Shoreditch was no longer the small village set among fields, but the centre of London's furniture and clothing trades and one of the most overcrowded and unsanitary areas of the City. The Ironmongers' Company decided to sell up and move its pensioners to cleaner, airier suburbs. The London County Council, who bought the property, wanted to demolish it to make way for a public park.
It was saved, however, by a petition by leading members of the Arts and Crafts Movement, who suggested that it should house a reference collection of good furniture, to educate and inspire the local workforce. The museum continues this mission today, purchasing interesting and innovative items from modern manufacturers.
More Information:
:
The Geffrye Museum

136 Kingsland Road, Shoreditch, London E2
Tel. 020 7739 9893

Spitalfields

Christchurch, Spitalfields

Bus information between Spitalfields and Geffrye Museum

Places to eat:

If you visit Spitalfields, then there are many places to choose from, including Bangladeshi restaurants in Brick Lane. St John's Bread and Wine (94-96 Commercial Street 020 7247 8724) offers very English offal-based dishes you won't find anywhere else. S&M (48, Brushfield Street Tel: 0871 332 5589) is somewhat cheaper but also very English in its large choice of sausages and mashed potato. Alternatively, there are a several popular Korean restaurants in Kingsland Road, near the Geffrye Museum.

Books:

Christmas Past, Christmas Present: 400 years of English Seasonal Customs 1600-2000 - Published by Geffrye Museum, 1997.
---
Helen Gazeley is a freelance writer whose articles have appeared in the Daily Telegraph, Artists and Illustrators, Organic and Healthy Living and Kitchen Garden Magazine. She also writes a regular column for Organic Gardening. London and eating are two major enjoyments, so she knows a decent place to eat near any major attraction. Contact Helen at helengazeley@aol.com.
---
Article © 2005 Helen Gazeley
Photos courtesy of the Geffrye Museum