Christmas in London
by Nancy Wigston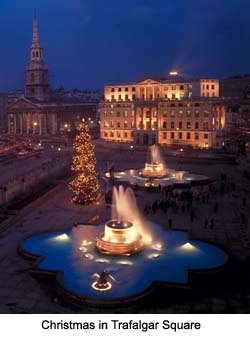 "We'll spend Christmas in London this year." Funny how one sentence can make your knees go weak, conjuring scenes from A Christmas Carol to Bridget Jones' Diary. We'd do it all: sightseeing, theatre, carol services; our trip would be holly-and-ivy all the way, the perfect chance to recharge family batteries and rekindle adult passions. The pitch-perfect Samuel Johnson had it right: "He who is tired of London is tired of life." What could go wrong in this most entertaining of cities?
Nothing much, as it turns out; still, along with the joy and good times we learned something about what Christmas really means in a country where the monarch retains the title, "Defender of the Faith." We already knew that the Victorians had pretty much invented our Christmas rituals, importing evergreen trees with candles from Germany via Prince Albert, Queen Victoria's consort, and adding English festivities to the mix, like Christmas "Pantos" (pantomimes), plum pudding, and Boxing Day. The London of today is very different from those Christmas card images; it's an international hub where you'll meet Singaporeans, Afghanis, Italians, and East Indians, all in the space of a city block. And somehow, magically -- thanks to the EU and post-colonial immigration -- the choices of food and cuisine in London have exploded like a Christmas cracker (another English invention). Heck, even the coffee is terrific.
Arriving just before Christmas Eve, we came armed with personal to-do lists, a raft of entertainments for adults, kids, and some for all of us to enjoy together. Our hotel in Little Venice proved a treat; just steps from Regent's Canal, it was snug and warm; there was even a resident purring cat. The first day was perfect. We did Major Sights: Marble Arch (a single bus ride from our hotel), a trip to all five storeys of Hamley's Toy Shop on Regent Street (to dazzle our nine-year-old son) on to Picadilly Circus, Trafalgar Square, and Buckingham Palace, somehow managing to fit in a sumptuous High Tea at Browne's Hotel. We experienced the ineffable rush of London. On the return walk, we dropped in for a restorative bite at a bustling Kurdish restaurant, where friendly waiters brought us mint tea in glasses, followed by fabulous home-cooked breads, lamb dishes, veggies, and rice.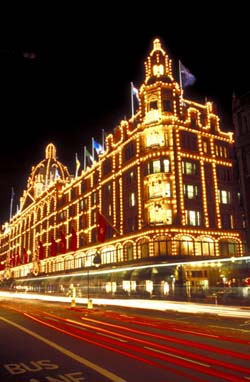 Next day we awoke to a snow-dusted morning, a rare but not unheard-of London event, since winters can be cold in Britain. From our windows Victorian streets looked as if a set decorator had played Santa Claus the night before, just for us. However. Our plan to purchase a London Transit family day pass -- a cost-saver that allows unlimited access on under -- and aboveground routes from 9.30am onwards was somewhat scuppered when we arrived at the Underground to discover that service was "limited" on Christmas Eve and on Boxing Day. As for Christmas Day, service was non-existent. Same for trains. "They close the underground?" asked our teenaged daughter, incredulous. She'd immediately fallen under London's spell and wondered, like the rest of us, how we'd get around. The obvious answer was a taxi -- no other city has such distinguished "black cabs" after all -- but cab drivers take holidays too, and taxis can be as scarce as hen's teeth over the Christmas crunch. Getting home Christmas night involved a 90-minute wait for a taxi driven by a gregarious young man from Nigeria.
After the reality of holiday closings and shortened hours had sunk in, we took a closer look at what we could and could not do over Christmas in London. There is a smorgasbord of wonderful places to visit, plus a host of events that take place only in the holiday season. Much holiday fun is designed for both Londoners and tourists. The following is a beginner's guide to yuletide fun in London Town:
Where to Go and How to Get There
Christmas Day remains Britain's major public holiday. Museums and are closed on Christmas Day, as are most theatres and shops; some smaller places also have restricted seasonal hours on the days just before and after December 25th. Museum opening and closing times can be found at http://www.visitbritain.com, the official source for UK travel information. For London Transport hours this holiday season, check listings at http://www.tfl.gov.uk, ("tfl" stands for "Transport for London"), which lists holiday hours, including the fact that there is no service on Christmas Day, as well as any other service disruptions, for instance, this year the Jubilee Line closes for five days after Christmas for construction, something that could affect your choice of a place to stay. Taxis on Christmas Day are scarce, so be prepared for a wait.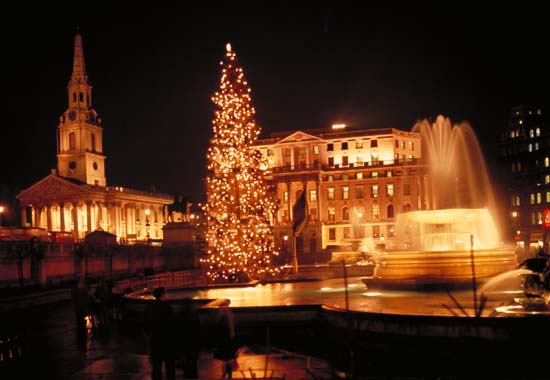 In addition to all the major attractions like theatre, history-drenched sights like Westminster, Big Ben, Picadilly Circus, and Buckingham Palace, London offers a plethora of seasonal attractions; a sampling follows:
Song. Visitors to London are truly spoiled for choice with musical feasts guaranteed to banish from memory the canned stuff of local shopping malls. This wealth of traditional song is presented in some of the world's finest venues. To wit: The Royal Albert Hall stages "Carols by Candlelight," a concert of popular carols and Christmas classics, where singers decked out in lush 18th century costumes sing in a candle-lit setting (from £9.50-£35, December 23&24). Carols in traditional church settings include: Midnight Mass at St. Martin's-in-the-Fields, a religious service replete with carols, choir, where the congregation participates in the well-known numbers; Westminster Abbey (from 4PM on Christmas Eve) offers lessons and carols; the First Eucharist will be sung at 11.30PM; Christmas Day services at The Abbey features a Festival Evensong at 3PM. The list of London carol services is extensive and includes a "Care this Christmas Concert" at St. Paul's Church (December 15), a blockbuster "Christmas Eve Classics" at The Royal Festival Hall as well as carol singing in smaller churches and stately homes like Sutton House.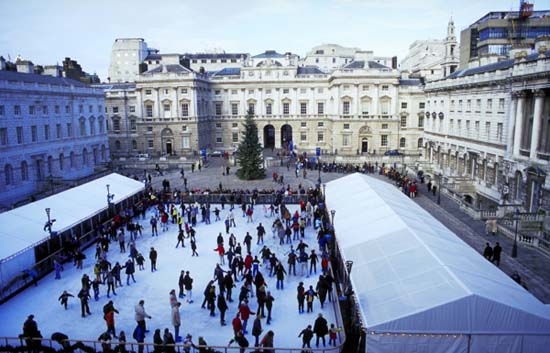 Christmas Fun. London, oddly enough, offers a wide array of skating rinks. Hampton Court is the oldest; new this year is the rink at the Natural History Museum in South Kensington, located beside a Christmas Fair with "inspirational gifts"; perhaps the most romantic spot to lace up is Somerset House on The Strand; between November 24 and January 29 its enormous courtyard rink is perfect for families; at nightfall, flaming torches and special architectural lighting put the accent on romance. A dry moat under the 940-year-old Tower of London's North Wall will be transformed into a skating rink between December 19 and January 8. Write in advance for free admission the Ceremony of the Keys, the nightly locking of the Main Tower by the Chief Yeoman and his escort of guards.
The spectacular London Zoo will stage an old-fashioned pantomime between December 23 and January 8th; "Dick Whittington and his Magical Cat" will be performed in a theatre at the heart of the Zoo.
Once a year, on Christmas Day, the Peter Pan Swimming Race -- founded in 1864 by Peter Pan author J.M. Barrie -- draws competitors and assorted fans to Serpentine Lake in Hyde Park. Whoever wins the 100-yard race is honoured in a ceremony immediately afterwards; then everyone disbands for lunch.
Out of Central London. Garden lovers will delight in Kew Gardens' "Crystal Christmas." Between November 26 and January 8; Santa Claus dwells in his ice cave every weekend; earlier in the month, on December16&17, the gardens remain open till 8.30pm. Visitors are greeted with seasonal decorations and carol concerts; mulled wine and roast chestnuts are for sale. (Kew also has an ice rink.)
National Trust Walks are popular and inexpensive; this year Ham House, a Restoration jewel on the Thames near Richmond, is the focus of a series of Christmas events throughout December, including costumed singers and musicians, ghost tours, a series of Christmas lunches (December 3-23) in the 17thcentury Orangery; and a bargain Christmas Walk (adults £2, kids £1) that takes place at 11am on December 27th. Check the listings for more Trust Walks and attractions.
Private tour companies offer a wide selection of Christmas Day tours; highlights include a Thames cruise with lunch and a Christmas Day bus tour; these may be your best chance to view London at its least congested.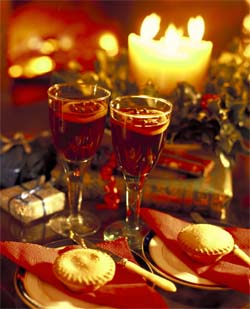 Eating and Shopping
Major hotels offer Christmas Day meals, often as part of a holiday package; a number of London restaurants and pubs now advertise special Christmas lunches (lunch being the favoured holiday meal); other places may be closed, so it's best to book in advance, and plan to stay either in your hotel or close to it, given transit issues. Creative solutions: buy your meal pre-prepared at Harrod's, Marks&Spencer or any other of London's fine emporia, and eat in your room. We did this and it was marvellous fun; we taped a "Christmas tree" made from sparkling wrapping paper to the wall and placed gifts underneath. Candles, Christmas crackers and what the English call "drink" (wine or spirits) completed the picture; afterwards we walked it all off by Regent's Canal, strolling by canal-side houses and boats of the rich and famous. Another idea: If you're near an ethnic district that does not celebrate the holiday, take advantage. Light-bedecked Brick Lane, for instance, is awash in superb and inexpensive Indian eateries.
Where and when can you shop? This is an easy one. (1) Boxing Day. (2) All over town. The origin of the term "Boxing Day" is rather obscure and probably has something to do with "boxes" (possibly gifts), but not the Christmas returns and massively marked-down prices that we enjoy today, a marketing ploy that didn't come along till much later. Nevertheless, London is the place to be for those who enjoy a good sale -- and what traveller is excluded from that list? From hip emporia to dowager department stores, the savings are huge, and even those who aren't normally interested will find themselves seduced by bargains in seasonal items and clothing that are easy to pack and take home. Bargain hunters clog the length and breadth of Oxford Street, Regent Street, and Knightsbridge; this flowing sea of shoppers under glowing Christmas lights is a purely London spectacle. Hundreds of shop windows beckon the pocketbook with windows proclaiming "SALE." Some stores are attractions themselves; our favourite was Liberty's on Regent Street, with its ever-so-stylish sale merchandise -- those silk ties and scarves -- displayed in a warren-like 17th building connected by a series of wooden staircases. Only in London.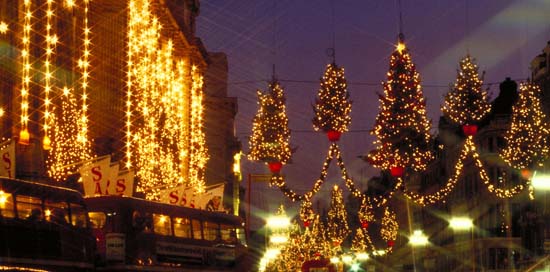 ---
What Is Boxing Day?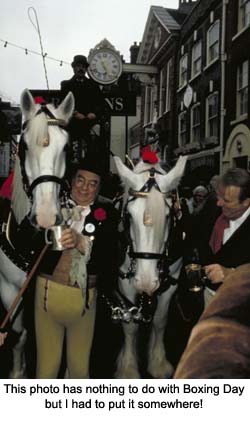 Boxing Day is a public holiday observed in many Commonwealth countries on 26 December. In many European countries it is also a holiday, called St Stephen's Day or the Second Day of Christmas. Strictly defined as the first weekday after Christmas [1], popular usage [2] has more recently maintained that Boxing Day always falls on the 26th, and that its associated public holiday may fall on a different day.
There is much dispute over the true origins of Boxing Day, but one common story of the holiday's origins is that servants and tradesmen received Christmas gifts from their employers on the first weekday after Christmas, the day after the family celebrations. These were generally called their "Christmas boxes." Another story is that this is the day that priests broke open the collection boxes and distributed the money to the poor.
In Commonwealth countries, any fixed-date holidays falling on Saturday or Sunday are always observed on the next weekday, so if Boxing Day falls on a Saturday then Monday 28 December is a public holiday; while, if Christmas Day is a Saturday then both Monday 27 December and Tuesday 28 December will be public holidays. In the government holiday listings of the United Kingdom for 2004, the bank holiday in lieu of Boxing Day was observed on Monday 27 December, before the holiday in lieu of Christmas Day on Tuesday 28 December.
(Reprinted from Wikipedia)
More Information:
A Bumper London Christmas

London Transport

London Zoo Pantomime

Music and Caroling Event Listings

National Trust

Natural History Museum Skating

Visit Britain
---
Born in Montreal, Nancy Wigston is a longtime freelance writer and critic; she has lived in Britain and Malaysia, and now lives in Georgetown, near Toronto. She is a frequent contributor to -- among other publications -- the Toronto Star and The National Post, as well as a Contributing Editor to the literary magazine Books in Canada. A former English teacher, she has taught creative and critical writing to students, and developed a course for adults on The Art of Literary Travel Writing. Her articles have won awards in Canada, where she is a member of the Canadian Chapter of the Society of American Travel Writers and the Travel Media Association of Canada.
---
Article © 2005 Nancy Wigston
Photos courtesy of BritainOnView.com