A Feast of Christmas Authors
by Sue Wilkes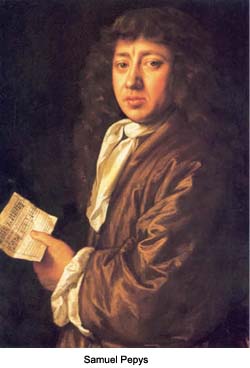 Our images of Christmas are defined by Charles Dickens' A Christmas Carol: we picture a Victorian street knee-deep in snow, tables groaning with goodies, and Tiny Tim's blessing. But many other writers and diarists have left their own memorable impressions of the festive season.
The 'first course' to add spice to our Christmas feast is diarist Samuel Pepys (1633-1703.) Pepys kept an extremely frank journal, written in special shorthand. The Plague Year, the Great Fire of London, the ups and downs of married life with wife Elizabeth and his many love affairs are all faithfully recorded. All seemed well, though, on Christmas Day, 1663:
Up and to church, where Mr Mills made an ordinary sermon; and so home and dined with great pleasure with my wife... and then I begin to read to my wife upon the globes, with great pleasure and to good purpose, for it will be pleasant to her and to me to have her understand these things...(Illustrated Pepys, ed. R. Latham, Book Club 1979.)
The next Christmas was less harmonious; Pepys enjoyed a new lover and blacked his wife's eye, but congratulated himself on having 'a pretty quiet and loving family.' (31 Dec 1664.)
He had a soft spot for some newlyweds: 25 Dec. 1665. To church in the morning, and there saw a wedding in the church... and strange, to see what delight we married people have to see these poor fools decoyed into our condition, every man and wife gazing and smiling at them.
1666, the year of the Great Fire, must have been a time of great distress to many families in the capital, still recovering from the massive destruction; luckily, Pepys's house and belongings had escaped the fire, and he enjoyed a Christmas dinner of 'good ribbs of beef roasted and some mince pies.' His career in the Navy Board prospered, and next Yuletide saw him going by coach to see 'the ceremonys' at the Queen's Chapel and worrying in case his pocket was picked. He found the Queen's High Mass (Queen Catherine was Catholic) 'too frivolous' but 'all things very rich and beautiful' for the service. He arrived home early Christmas morning and found his wife 'in bed, and Jane and the maids making pyes, and so I to bed and slept well.'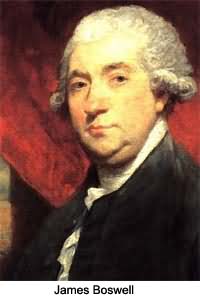 Another writer who kept a journal while living in London was an impecunious young Scot. In Christmas 1762 James Boswell (1740 -1795) was 'on the make;' he desperately wanted a commission in the Guards. He hoped to lead an idle life as an officer in London, rather than follow in his judge father's footsteps, and spent much of his time hustling a rich noblewoman, the Countess of Northumberland, to get a commission for him. He was also trying to coax a young lady, the 'adorable Louisa,' into allowing him an 'amorous dalliance.' A literary 'groupie,' Boswell lived in hope of meeting that great man of letters, Samuel Johnson. Boswell was on a very tight budget, only dining well when he could scrounge a meal at a friend's house, but he contrived to keep cheerful:
Thurs 23 Dec. I have great spirits. I see how little a man can live upon... I never can come lower than to live on bread and cheese. (Boswell's London Journal, ed. F.A. Pottle, Futura, 1982.)
He enjoyed a 'literary dinner' on Christmas Day at Davies the bookseller's house, where he met writer Oliver Goldsmith: '... a curious, odd, pedantic fellow with some genius... I had seen no warm victuals for four days, and therefore played a very bold knife and fork... They discussed the works of Shakespeare and Samuel Johnson; Boswell was disappointed, because he'd hoped to meet 'Dictionary' Johnson there. On Boxing Day Boswell was 'stupefied and enraged' to receive a letter from family friend the Duke of Queensberry, informing him a commission in the Guards would not be forthcoming and was a 'fruitless pursuit.' Luckily, the lovely Louisa made Boswell 'blessed' a week later, but he got much more than he bargained for. His ambition to meet Johnson was not fulfilled until May the following year; this fateful meeting led to a long-lasting friendship and the first modern biography.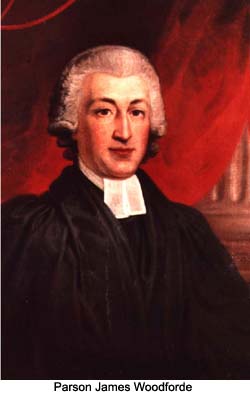 A contemporary of Boswell's was Parson James Woodforde (1740 -1803.) His diaries, which cover the years 1758 - 1802, provide a unique record of C.18th rural life. His pastimes were more innocent than Boswell's. Woodforde kept his own cows, pigs and poultry at his Parsonage at Weston Longville, Norfolk; he grew barley and brewed his own beer. But oh! how cold the winters were then. While Woodforde was a student at Oxford, the Thames froze over; he often went skating upon it:
January 24, 1763. We skated down to Abington where we dined and for our dinners etc. each of us paid 2s.6d. We were going down about an hour and a half... (Diary of a Country Parson, James Woodforde, OUP, 1984.)
The winters of 1794-5 and 1798-9 were exceptionally frosty at Weston; the turnips grown to feed livestock over winter froze like bricks, and had to be split open with a mallet and wedge. The weather affected the poor Parson's health:
December 25, 1794. It was very cold indeed this morning, and the Snow in many Places very deep, with an E. Wind. Immediately after the Morning Service... I was attacked with an Epileptic Fit and fainted away in my Desk, but thank God! soon recovered... After service was over I walked into Mr Stephen Andrew's House and having warmed myself, I walked home...
It was Woodforde's custom to give the poor people of the parish sixpence each and on Christmas Day he gave the old folk a splendid dinner of: A very fine Sirloin of Beef rosted (sic) and plenty of plumb Puddings for dinner and strong beer after... The parlour window was decorated with boughs of holly, and the Parson lit his 'great wax-candle.'
The next day saw Woodforde on the mend: I drank plentifully of Port Wine after dinner, instead of one Glass, drank 7 or 8 Wine Glasses, and it seemed to do me much good...
The cold weather caused problems in the Parsonage kitchen in those days before central heating:
December 28, 1798. Frost last night & this Morning and & all the Day intense -- it froze in every part of the House even in the Kitchen. Milk and Cream tho' kept in the Kitchen all froze... Even the Meat in our Pantry all froze & also our Bread. I think the Cold was never more severe in my Life.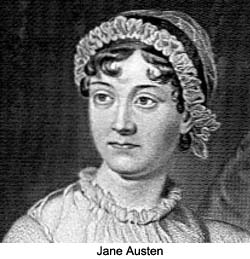 Meanwhile, at Steventon Rectory at Hampshire, twenty-three-year old Jane Austen (1775 -- 1817) wrote to her sister Cassandra about the ball she'd enjoyed at the Ashford Assembly Rooms. She'd been staying with her friend Catherine Bigg at Manydown. The behaviour of one of the gentlemen present may have inspired a certain Mr Darcy's standoffish conduct at the Meryton Assembly in Pride & Prejudice:
December 24, 1798. I returned from Manydown this morning... Our ball was very thin, but by no means unpleasant... Mr Calland... appeared as usual with his hat in his hand, and stood every now and then behind Catherine and me to be talked to and abused for not dancing. We teased him, however, into it at last... There were twenty dances, and I danced them all, and without any fatigue... My black cap was openly admired... [Jane kept her letter open, and on Christmas Day she added:] I was to have dined at Deane today, but the weather is so cold that I was not sorry to be kept at home by the appearance of snow... (Jane Austen: Selected Letters 1796-1817, OUP, 1985.)
The threat of snow, however, was not enough to prevent her heroine Emma from going out to dinner at Randalls on Christmas Eve:
The cold... was severe; and by the time the second carriage was in motion, a few flakes of snow were finding their way down, and the sky had the appearance of being so overcharged as to want only a milder air to produce a very white world in a very short time. (Emma, Jane Austen, Penguin Books 1966.)
When the promised snow arrives, Emma and her party hurry home; but when Emma inadvertently finds herself alone in a carriage with the obnoxious Mr Elton, she finds herself in danger from more than the weather: ... scarcely had they passed the sweep-gate and joined the other carriage, than she found... her hand seized -- her attention demanded, and Mr Elton actually making violent love to her...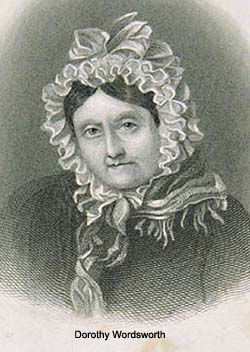 One lady who rarely let the weather deter her from going out was diarist Dorothy Wordsworth (1771-1855), sister of William. Dorothy inspired some of his loveliest poems. In their tiny cottage at Grasmere in the Lake District she kept house for him, made fair copies of his work, and accompanied him on immensely long walks. Dorothy, who had a keen eye for the natural world, kept a journal "to please William" but although she did not write with an eye to publication, her prose has a magic of its own:
December 22nd, 1801. Still thaw. ... Wm. and I went to Rydale for letters, the road was covered with dirty snow, rough and rather slippery... We stopped to look at the stone seat on top of the Hill. There was a white cushion upon it, round at the edge... the Rock behind looked soft as velvet, of a vivid green, and so tempting! The snow too looked as soft as a down cushion. A young Foxglove, like a star, in the centre... (Journals of Dorothy Wordsworth, ed. Helen Darbishire, OUP 1958.)
Despite the wet roads, Dorothy and William went out walking again on Christmas Eve and Christmas Day, in the evening they sat round the fireside, reading Chaucer. On Boxing Day they walked to Rydale again:
It was very pleasant -- Grasmere Lake a beautiful image of stillness, clear as glass, reflecting all things, the wind was up, and the waters sounding...
Lord George Gordon Byron (1788-1824) was unlikely to have been on the Wordsworths' Christmas card list (although they hadn't been invented yet.) 'Mad, bad' Byron, too, spent a watery Christmas -- at Venice, in 1816. He and Wordsworth loathed each other. The two men were poles apart, artistically and morally. While Wordsworth lived the simple life 'far from the madding crowd' in the Lakes, struggling to sell his works, Byron was society's darling, and his poems were bestsellers. But now Byron had been forced into exile, not only to escape his creditors, but also the huge scandal over his separation from his wife Annabella amidst rumours of incest with his half-sister Augusta Leigh. And it was to Augusta he wrote of his latest escapade with a married Venetian lady:
December 16th, 1816. ... You are right in saying I like Venice... the Carnival is to begin in a week -- and with it the mummery of masking... My present beloved -- is aged two and twenty -- with remarkably fine black eyes -- and very pretty and regular features...
The night, even darker than his lady's eyes, nearly led to her making a splash:
... instead of handing the Lady as in duty bound into the Gondola -- I as nearly conveyed her into the Canal -- and this at midnight -- to be sure it was as dark as pitch -- but if you could have seen the gravity with which I was committing her to the waves -- thinking all the time of something or other not to the purpose; -- I always forget that the streets are canals -- and was going to walk her over the water -- if the servants & the Gondoliers had not awakened me. -- So much for love... (Lord Byron: Selected Letters and Journals, ed. Leslie Marchand, (Picador, 1988.)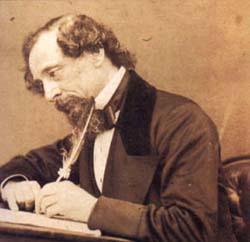 It seems appropriate for Charles Dickens (1812 -1870) to be the 'final course' of our feast of Christmas authors. Jane Welsh Carlyle, (1801-1866) wife of writer Thomas Carlyle, gives us a wonderful picture of Dickens as a magician at a child's birthday party, in the month when A Christmas Carol was published:
23rd December, 1843.... Only think of that excellent Dickens playing the conjuror for one whole hour -- the best conjuror I ever saw... This part of the entertainment concluded with a plum pudding made out of raw flour, raw eggs -- all the raw usual ingredients -- boiled in a gentleman's hat -- and tumbled out reeking -- all in one minute before the eyes of the astonished children...
Dickens then did another trick "changing ladies' pocket handkerchiefs into comfits -- and a box full of bran into a box full of -- a live guinea pig! (Jane Welsh Carlyle, Letters to her family 1839-1863, ed. Leonard Huxley, John Murray, 1924.)
Charles Dickens was a natural performer. In December 1855, he gave readings of A Christmas Carol to raise money for charity. Audiences were enthralled by his performances as he acted out his own characters, and reduced grown men and women to tears. Here the Ghost of Christmas Present shows that old miseryguts, Ebenezer Scrooge, how the rest of the world is celebrating Christmas:
By this time it was getting dark, and snowing pretty heavily; and as Scrooge and the Spirit went along the streets, the brightness of the roaring fires in kitchens, parlours, and all sorts of rooms, was wonderful. Here, the flickering of the blaze showed preparations for a cosy dinner, with hot plates baking through and through before the fire, and deep red curtains, ready to be drawn to shut out cold and darkness. There all the children of the house were running out into the snow to meet their married sisters, brothers, cousins, uncles, aunts, and be the first to greet them. Here, again, were shadows on the window-blind of guests assembling; and there a group of handsome girls, all hooded and fur-booted, and all chattering at once, tripped lightly off to some near neighbour's house... (A Christmas Carol, Charles Dickens.)
The fire-ravaged London of Pepys, the calm waters of Grasmere, the colourful Carnival of Venice; just a few of the many images of Christmas penned by our finest writers. Whatever the place or year, they illustrate that family, friends and fun are the prime ingredients for a memorable occasion. So wherever you are, or whoever you're with -- have a happy Christmas!
More Information:
Jane Austen:



The Jane Austen Centre

40 Gay St, Bath, BA1 2NT Tel: 01225 443000

Jane Austen's Regency World

The Jane Austen Society

Charles Dickens:



The Dickens Fellowship

48 Doughty St, London, WC1N 2LX

The Dickens Page

Charles Dickens Gad's Hill Place

http://www.perryweb.com/Dickens/
Very definitely the "everything Dickens" site, including information about the life of Dickens, "the web's largest collection of Dickens quotes," quizzes, book information, and lots more.



Parson Woodforde:



The Parson Woodforde Society

William Wordsworth:



The Wordsworth Museum

Dove Cottage, Grasmere, LA22 9SH. Tel: 015394-35544

Rydal Mount and Gardens

Rydal, Near Ambleside, Cumbria. Tel: 015394 33002

For additional information about these and other authors, visit http://www.timetravel-britain.com/links/literature.shtml
---
Sue Wilkes is a published author in the UK and USA and also works as a creative writing tutor. She contributed regularly to Living History and is now a regular contributor to the 'Footsteps' section of BBC History magazine; other credits include The Lady, Jane Austen's Regency Magazine, My Weekly, etc. Her US credits include The Highlander and Mercator's World. Wilkes is a member of the Society of Authors, at http://www.societyofauthors.net/soa/fullrecord.php4?writerno=2400; visit her blog at http://suewilkes.blogspot.com/.
---
Article © 2005 Sue Wilkes
Parson Woodforde photo courtesy of the Parson Woodforde Society; additional images courtesy of Wikipedia.org.