Help Excavate a Norfolk Village!
by Sara Polsky
Holcombe Ingleby, a Sedgeford, England, resident and owner of Sedgeford Hall, wrote in 1913 that he had discovered eight burials "near my house" in one summer of investigation. Ingleby suggested that many skeletons had been uncovered previously in the area, though he gave no specific dates or locations for those finds.

Today -- after smaller-scale excavations earlier in the twentieth century by a plow, the Norfolk Research Committee, and Cambridge University's Dr. Peter Jewell -- the "boneyard" in which Holcombe Ingleby found his skeletons is being studied by the Sedgeford Historical and Archaeological Research Project (SHARP).
In fact, SHARP's mission is far more comprehensive than that. The project aims to trace the entire history of human occupation and land use for the north-west Norfolk parish of Sedgeford, a history that the project's research suggests spans from the Iron Age (750 BC-42 AD) through modern times. Begun in 1996, the excavation is the largest in England and aims to cross traditional boundaries between disciplines, eras, supervisors and volunteers, and archaeologists and the local community.
Best of all for travelers, SHARP is open to volunteer excavators ages 16 and older -- nearly 70 of whom participate each summer -- and to visitors of all ages, and volunteers are encouraged to offer their interpretations of the project's work.
"The Project is an exercise in democratic archaeology, believing that all those who participate have an equal say in how the project is run, and we are strongly rooted in the local community, whose heritage we are engaged in studying and whose participation we encourage," reads the SHARP website. Because the project is not connected with any museum or university, says staffer Chris Mackie, project members have a great deal of freedom in their decision making.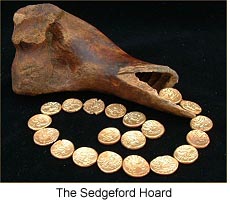 Project volunteers will have the opportunity to become involved with some of SHARP's current research concerns, including an investigation into Sedgeford's Iron Age occupation. Several astounding finds during recent seasons have led to project members' increased interest in the town's Iron Age. During the 2003 seasons, SHARP volunteers recovered a hoard of Iron Age coins inside a cow bone, as well as a horse burial in the same area of the site. These artifacts and burials may have been part of a ritual deposit. Another artifact found during the 2004 season was the end piece of an Iron Age torc, the other portion of which has been in the British Museum since 1965. And some coins recovered at the site include a tribal name. The similarities between these recent Sedgeford Iron Age finds and those excavated at nearby contemporary sites indicate that the communities were linked by trade and shared religious practices.
"Our evidence suggests that Iron Age Sedgeford people lived in small, unenclosed settlements like those excavated at nearby Snettisham," writes Megan Dennis, the SHARP staffer responsible for the analysis of the Iron Age coin hoard. "They grew spelt wheat in fields. They used both handmade and wheel-thrown pottery. They used and deposited rich assemblages of metal objects, including the coins of the Sedgeford hoard and the Sedgeford torc."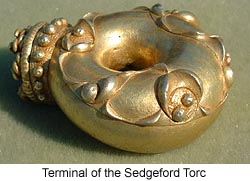 The artifacts suggest relationships between Sedgeford and other sites as far away as the European continent. As Dennis explains, "they were connected to the wider world of north-west Norfolk by prehistoric tracks and a small river that passed through the valley... North-west Norfolk was linked to other parts of Britain and to the Continent."
With its multi-period outlook, SHARP has also devoted much attention to Anglo-Saxon and later medieval Sedgeford. Radiocarbon dating has revealed a chapel, likely in use between 1050 AD and 1180 AD, giving evidence of late Anglo-Saxon or medieval period occupation. So far, the skeletons of approximately 250 individuals dating to the Anglo-Saxon era have been recovered from the site's Saxon Cemetery, and a building on the edge of this cemetery will be one focus of excavation in 2005.
Volunteers are a key reason why the project is able to accomplish so much each summer and has been able to continue at the site for a number of seasons. Volunteers are welcome on site for one week or more of the project's six-week summer season, which runs from July 3 through August 12 this year. Participants with fewer than three weeks of archaeological excavation experience are required to enroll in a "Basic Excavation and Recording Techniques" course, but once they complete the course, they are free to decide which of Sedgeford's research areas they would like to excavate.
For those who would prefer more in-depth or specific training, SHARP also offers a series of week- or day-long classes on focused topics, from the archaeology of human remains to Anglo-Saxon weapons and warfare.
Volunteers face an 8:30-5 workday, and Mackie says that the experience of living in tents at the SHARP site can be difficult, particularly during wet weather. But the benefits of life at SHARP outweigh the challenges.
"The best is the range of archaeological opportunities and the experience this gives. And, of course, the people," Mackie says. "A vast range of ages and folk from all over the world -- it really is a great mix."
Getting There and Staying There
Sedgeford is a bus- or taxi-ride away from King's Lyn rail station. Trains to King's Lynn depart from London King's Cross and London Liverpool Street stations, and trains from other areas connect to King's Lynn through Ely. If you plan to arrive at SHARP on a Saturday, you may be able to take advantage of a pre-set pickup time from the King's Lynn station.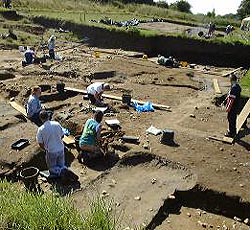 Once on site, the majority of volunteers camp near the main excavation areas. Participants must provide their own tents, sleeping bags, and any other camping equipment. Accommodations at area bed and breakfasts may be available if participants make reservations early and can take care of their own daily transportation to the site. For those camping onsite, meals are provided every day except Saturday, which is a day off for project volunteers and staff. The cost for attendees camping on site is £140 per week for the first and sixth weeks and £150 for weeks two through five. For students, the cost is £110 for weeks one and six and £120 for weeks two through five. Volunteers staying off-site are charged £50 per week.
For those interested in visiting the SHARP site without volunteering at the excavation, the site is open to visitors from 11 AM-4 PM Sunday through Friday. Every Friday afternoon, project members give brief presentations about the week's work and lead visitors and participants on a tour around the site. Tuesday evening lectures (which will run during July and August) cover topics in history and archaeology, not all of them closely related to SHARP. These lectures are open to the public. In July, SHARP will be holding an Open Day. In addition to site tours, the Open Day includes exhibits and reenactments.
More Information
SHARP

http://www.sharp.org.uk
In addition to basic details about how to volunteer, this site has more photos and information about the objects pictured in this article.
---
Sara Polsky's writing has appeared or is forthcoming in The Christian Science Monitor, Renaissance Magazine, Student Traveler, and other publications, and she has participated in archaeological excavations in New Jersey and Massachusetts. She is a 2007 graduate of Harvard University.
---
Article © 2005 Sara Polsky
Photos courtesy of SHARP