The Ryedale Folk Museum
by John Ravenscroft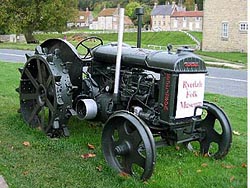 Where can you see an Elizabethan manor house alongside a typical 1953 village shop? A 17th century cruck house just a stone's throw from a 19th century dairy? An Edwardian photographic studio cheek-by-jowl with a witch's hovel?
The answer is at Ryedale, a Folk Life Museum that covers 3.5 acres of pleasant Yorkshire countryside on the outskirts of Hutton-Le-Hole and boasts a collection of nineteen fascinating historical buildings.
Even without the museum, the pretty village of Hutton-le-Hole is full of history. There's still an ancient Manor Court in operation there, an institution that controls the village's common land. Flocks of Swaledale and Blackface sheep wander about freely -- so take care if you're approaching the place by car.
But Ryedale Museum, which was opened in 1964 and has won various well-deserved awards, offers a great deal more of interest to visitors with a penchant for the past.
Inside the Museum
The first thing that greets you at the entrance is a lovingly-restored World War II tractor. Once you've passed through the reception area, you'll see a blacksmith's forge on your right, and a row of craft workshops on your left. Outside the forge is a hooping plate -- a device used by the blacksmith to fit metal rims to the wooden wheels of carts and buggies, and nearby is Elphi's Well, which carries the intriguing inscription: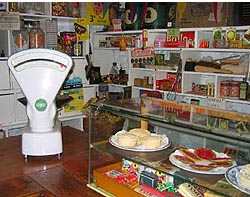 ELPHI
LITTLE CHAP THOU HE WER SO SMALL
WAS FULL O DEEDS OF KINDNESS
DRINK TIV HIM YAN AN ALL
The row of workshops includes typical working areas and tools of the trade for a cobbler, a saddler, a tinsmith and a cooper. Here you'll also find the 1953 village shop (complete with vanished products and prices that made me recall my own childhood) and the old chemist's shop full of various patent medicines and colourful bottles: cobalt blue for syrups, green for poisons etc.
Stang End Cruck House
Opposite the workshops stands a fine-looking thatched building. This is Stang End Cruck House. It's called Stang End because for nearly 500 years it stood at a place called Stang End, Danby. It was relocated at Rydale in 1967 and in its current form it looks much as it would have done in 1704 when a couple called John and Anne Huntley lived and farmed there. There is an inscription over the door that commemorates their marriage.
The 'Cruck House' part of the name comes from the nature of the building. Cruck houses were constructed by making a framework of long, curved beams -- usually of oak -- in the form of a capital A. These were the crucks, and they were linked by a ridge-tree. Houses could thus be extended by simply adding another cruck and ridge-tree to the existing structure.
This is what John and Anne Huntley did. Before their time, Stang End was just one room about half the size of the building now at Ryedale. The people living there would have shared the space with their animals, but the Huntleys added another section and moved the animals out. They also improved the place by installing a chimney and a smokehood.
Inside Stang End you can see a rare example of a witch post, carved with raised bands and a St Andrew's Cross. These were supposed to protect a house from witches, and make it impossible for them to enter. Fewer than twenty such posts have been discovered.
Elizabethan Manor House
Perhaps the most imposing building on the site is the Elizabethan Manor House, which dates from the late 16th century and was moved here from Harome. Like Stang End, it is based on a cruck-style framework, but this construction is much larger. In fact the crucks here are the biggest yet discovered in north-east Yorkshire.
The manor would have housed the local Squire and his servants, and at one time they would have shared a communal living-area. Rooms were later added and partitioned off to give the Squire and his family some privacy.
The house has been restored and now looks much as it would have done in the early 17th century.
Edwardian Photographs
Near the manor house are various reminders of moorland industry, such as jet mining and glass-working. The glass furnace you can see here is the only example of its kind in the UK.
A little further on stands the photographic studio of a certain William Hayes (1871-1940) as it would have appeared in 1902 when it was a working studio in York. There is a darkroom and a finishing room at one end, and the main area is well-lit by natural illumination to make it suitable for taking photographs. Many examples of William's work may be seen here, including a wonderful photograph of his own wedding reception, which was held in the studio on the 28th July 1904.
Also of Interest
Because of space restrictions the above is just a brief guide to a few of the attractions Ryedale Museum has to offer. Make sure you also see the charming Harome Cottage, the Wash House and Dairy, the Old Horsewheel, the High Barn with its 'Country Road to Market' exhibition... and at the end of your visit pop in to the village pub where you'll find a warm welcome, plenty of good food and some excellent Yorkshire beer!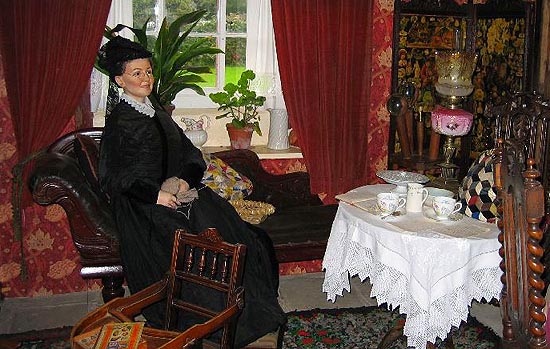 Inside Harome Cottage
If you're in the area and the weather is fine, Rydale is well worth a stop. I hope you take the opportunity to pay it a visit.
More Information:
Ryedale Folk Museum
---
John Ravenscroft is a teacher-turned-writer who lives in Lincolnshire, England. He spends much of his time struggling to write fiction and co-editing Cadenza Magazine. His short stories have won prizes in various literary competitions and been published in numerous magazines, and his work has also been broadcast on the BBC. In 2005 he is planning to write more nonfiction articles. Visit his website at http://www.johnravenscroft.co.uk.
---
Article © 2005 John Ravenscroft
Photos © 2005 Astra Ravenscroft