A Fan...Tastic Museum
by Ron Toft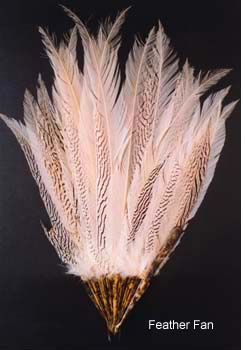 They've been around for thousands of years, but no-one knows precisely when, where, why or by whom they were first made.
The early ones were almost certainly simple devices used for purely practical purposes, while the later, more sophisticated models, were high society fashion accessories.
All manner of materials have been used in their construction down the ages, including ivory, tortoiseshell, mother-of-pearl, silk, lace, cotton, skin, vellum and paper.
They are fans -- and the world's biggest and most comprehensive collection is at The Fan Museum in historic Greenwich, southeast London.
The museum is home to more than 4,000 fans, fan leaves and related items, many of which have been bequeathed to the museum by its founder and curator -- life-long fan collector and leading fan expert Helene Alexander.
The oldest known fans have come from Egyptian tombs, the best known example being the ivory-handled ostrich feather fan found buried with the boy-king, Tutankhamun.
"Fans were extremely ornate even at this relatively early period in history, some having colourful feathers and others woven slats," says Helene. "The wooden handles of these Egyptian fans were often covered in gold leaf, decorated and enamelled.
"I imagine the very first fans would have been very simple devices used for winnowing the chaff from cereal grains and such like."
Pictorial records of fans date from around 3,000 BC. There is evidence that the Greeks, the mysterious Etruscans and the Romans all used fans as cooling aids and ceremonial devices, while Chinese literary sources associate the fan with ancient mythical and historical characters.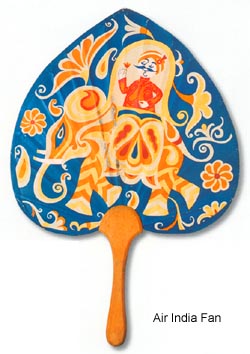 Early fans were all of the fixed type. The first folding fans are thought to have been invented in Japan. According to Helene, "Folding fans were inspired by and copied from prototypes brought to Europe by merchant traders and the religious orders which had established colonies along the coast of China and even Japan. These fans were reserved for royalty and the nobility and, as expensive toys, were regarded as a status symbol."
Fan montures -- the sticks and guards -- were made from ivory, mother-of-pearl, tortoiseshell and other materials, and often carved, pierced and adorned with silver, gold and precious stones, while fan leaves were painted by craftsmen. Prior to about 1500, European fans were either stick-mounted rectangles of painted, woven or embroidered vellum or paper or a spray of feathers attached to an ornate handle.
Folding fans became extremely popular with the French nobility. By the time a guild had been established in the 17th century for the different craftsmen involved in fan-making, France had usurped Italy as the leading European manufacturer.
Although fans continued to be imported from the Far East, innovative European fan-makers imitated and adapted Chinese motifs to create a type of decoration called chinoiserie. Fan-makers also derived inspiration from great works of art and biblical and other figures.
It was Queen Elizabeth I and the Huguenots who made fans popular in Britain. Although a Worshipful Company of Fan Makers was founded in 1709, fan-making in Britain never reached the dizzy heights it attained in France.
Eighteenth century Europe was the golden era of fan-making and fan-using. "Everybody, irrespective of their place in society, owned a fan by the middle of the 18th century," says Helene. "The rich and famous had beautiful court fans, while ordinary people had cheaper, printed fans. Fans depicted a variety of subjects, from Nelson's victory on the Nile to 'how to play whist and not lose your temper!'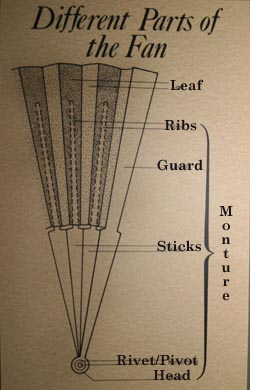 "In the 19th century, with its early political turmoil, fans again reflected the times in the small brise horn fans that were very popular in the 1820s. Arguably, the most lavish fans date from the second half of the century. Artists who painted these fans were often the fashionable painters of their day who signed their work.
"Fans again mirrored the social and economic times in the 20th century with the rise of advertising and a more utilitarian and wasteful society. Today, in Europe, only Spain uses the fan as part of everyday life. It is still used in hot countries elsewhere, however -- particularly in the Far East and especially in Japan."
Helene first became interested in fans during the 1950s while studying for a diploma in theatrical design and a degree in the history of art. "I discovered they were not only costume accessories but little works of art in their own right. Often they had been based on famous paintings."
The more she read and learned about fans, the more she felt they had been "very much neglected as part of the decorative arts." Many members of Helene's large family were avid collectors, her father, Victor Adda, being an internationally renowned numismatist. No-one was surprised, therefore, when Helene was also bitten by what she describes as the 'collectivitis' bug and began collecting fans. "Given that I was surrounded by inveterate collectors, I think it was meant to be!" she laughed.
Helene had little spare cash to spend on fans during her student days. Fortunately for her, even an 18th century fan could be bought for a song in junk shops and streets markets in the post-World War II years.
As time passed, Helene became increasingly knowledgeable about fans and her collection continued to grow. In the 1970s she became the founding president of The Fan Circle International. While working as a volunteer for 13 years at London's Victoria & Albert Museum, she decided that a museum should be established where her fans, and others, could be displayed and studied.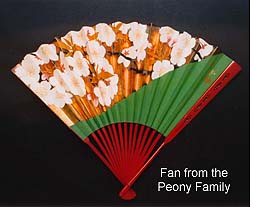 After she and her late husband, Dicky, founded a charitable trust, the search began for suitable premises in historic Greenwich where there were already a number of other high profile tourist attractions. The search ended in December 1985 with the purchase of a pair of virtually derelict Grade II-listed town houses dating from 1721. "They were in a really appalling condition," she recalled. "The houses had been used by squatters. When we first opened the doors, pigeons flew out!"
It took several years to restore the buildings to their former period glory and to add a replica Georgian orangery, adorned with murals, at the rear of the properties. The Fan Museum finally opened its doors to the public in May 1991 at a total cost of £1.5 million -- the first visitor attraction of its kind exclusively dedicated to fans.
It now draws thousands of visitors from all over Britain and well beyond -- casual visitors looking for somewhere different to go and decorative art students and researchers. The museum is divided into two parts: the ground floor, where there is a permanent, introductory display, and the first floor, which is reserved for themed exhibitions.
Although there are just two basic kinds of fan, the fixed and the folding, each has a number of quirky variations. The aptly-named telescopic fan, for example, is hollow inside, enabling the various parts to be pushed inside one another. One novelty fan incorporates a pair of folding spectacles in its guards, or outer arms, while another features an ear trumpet! One of the amusing fans on show is called the 'Swiss Army knife for corseted ladies', the guards of which contain a miniature sewing kit, complete with scissors, a mirror and a comb.
Over the years, all manner of themed displays have been mounted in the museum's exhibition gallery, including lace fans, feather fans, theatrical fans, advertising fans, Japanese fans and Chinese trade fans. The latest, which runs from 1 July to 6 November 2005, features a selection of popular fans commemorating Lord Nelson's seafaring victories, as well as some French 'opposition' fans and a number of other period artefacts.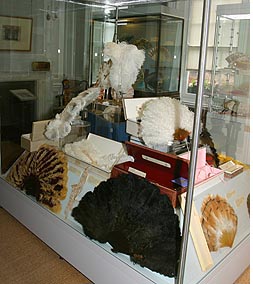 "One can compare the commemorative fans to tiny patriotic flags and propaganda tools," said Helene. "Carried in the hands of beautiful ladies, they would give Nelson's battles a romantic and adventurous edge. Brought back by tourists, they would be subtle political messages. Brought back by gentlemen, they would carry with them all the symbolism of strength, bravery and heroism which many gentlemen might like to imagine themselves to be."
Few fans, however, actually feature Nelson. Most memorabilia relating to him is post-1805. Pride of place in the exhibition will go to the historic fan painted with silhouettes of the Neapolitan royal family. It commemorates Nelson's involvement with Naples from September 1799 to June 1800. Also on show will be period garments, Toby jugs depicting Nelson and French political fans and fan leaves. "It's a fascinating exhibition that sheds new light on an already well-known character," says Helene.
When Helene Alexander started collecting fans, she never imagined for a moment that she would end up with thousands of artefacts housed in a specialist museum under her directorship. "By bequeathing my fans to the museum, I have ensured not only that they will be looked after for generations to come but that other like-minded people will be able to see, enjoy and study them."
More Information:
The Fan Museum

12 Grooms Hill, Greenwich, London SE10 8ER
Tel: +44 (0) 208 305 1441
http://www.thefanmuseum.org.uk
Open Tuesday to Saturdays 11 am to 5 pm and Sundays 12 noon to 5 pm.



A Brief History of Fans

Hampshire Museum Fans Database

Search for fans in the museum collection by material, period, design, and more.
| | |
| --- | --- |
| A Stately Bride - 1880 | Evening by the River - 1890 |
| Faberge Lace Fan | 18th Century English Mask Fan |
| Parrot Fan by Aafke Brouwer | Stephanie Fan |
| Fan Commemorating Nelson and the Battle of the Nile | The Judgment of Paris |
| Indian Fan with Mica Panels | Japanese Court Fan |
---
Ron Toft is a UK-based freelance journalist and photographer of 38 years' experience specialising in travel, history/archaeology and general interest features for dozens of publications internationally.
---
Article © 2005 Ron Toft
Fan photos courtesy of the Fan Museum; display case photo © Ron Toft