London's Theatre Museum
by Kavitha Rao
If you are in Covent Garden, the heart of London's Theatreland, and don't have tickets to a show, the next best thing is a trip to the Theatre Museum, a small but fascinating museum tracing the development of British theatre from Shakespeare's time. Even if you are not a theatre fanatic, there's plenty to see and hear, from original theatre bills, costumes, and designs to videos, recordings and photographs. Did you know, for instance, that George Bernard Shaw earned £206 per week as royalties for Pygmalion, which was 10% of the total weekly takings of £2006? This may seem like he got the bad end of the bargain, but in today's money it would be about £800,000 to £1,000,000 annually. Oscar Wilde didn't do too badly either. In 1895, The Importance of being Earnest earned him £90 per week, about £300,000 to £400,000 a year today.
Want to hear Sir John Gielgud's version of Hamlet in 1948, and compare it to Kenneth Branagh's modern interpretation in 1992? You can hear this, and several other original recordings from BBC archives, including the celebrated Ellen Terry playing Portia in The Merchant of Venice in 1911. You can also view excerpts of productions ranging from the Royal Shakespeare Company's seminal version of King Lear to fringe theatre of the nineties.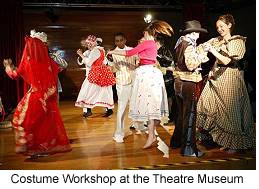 Among the theatre's rarest exhibits are original portraits of William Shakespeare, and the first collected edition of his plays published in 1623. It also displays some of the earliest known photographs of the theatre, including Sir Henry Irving playing a brooding Richard III and a young Ellen Terry playing a pensive Juliet in 1882. A rare playlist of Ben Johnson's 1640 play Every man in his humour lists the original cast, which included William Shakespeare. The museum also has a huge collection of costumes and props, including the fabulous costumes of Serge Diaghilev's Ballet Russe. Modern theatre is represented by a large exhibition on the six generations of the Redgrave family, ranging from patriarch Michael Redgrave's performances in Hamlet and The Cherry Orchard to Vanessa Redgrave's and her daughter Natasha Richardson's performances in Ibsen's Lady from the Sea.
There's something to lure the children away from their Playstations as well. Sign them up as models for the free makeup demonstrations in the museum, or let them try on costumes and learn the essentials of the stage at The Kids Theatre club on weekends. Don't forget to check the ongoing series of interviews, talks and gatherings at the museum. Programmes include talks on the cabaret, comedy workshops with the likes of Tom Stoppard and guided tours of Theatreland on Saturdays.
The Theatre Museum

Russell Street, Covent Garden, London WC2E 7PR. Nearest tube station: Covent Garden
Tel: 44 020 79434700
Open Tuesday to Sunday 10 am to 6 pm. Last admission 5.30 pm. Admission is free.
---
Kavitha Rao is a freelance writer who has lived and worked in Mumbai, Bangkok, Hong Kong and Tokyo. She currently lives in London, and doesn't think she will ever tire of it. Her articles on culture, travel, literature and lifestyles have appeared in the Daily Telegraph, Asiaweek, the South China Morning Post and the Far Eastern Economic Review, among others.
---
Article © 2005 Kavitha Rao
Photo courtesy of The Theatre Museum