Kenwood House: Country Mansion in the City
by Kavitha Rao
Visiting a stately English country house in the heart of London might sound impossible, but like so much else in London, you only have to know where to look. If you have had enough of the capital's crowded streets, but don't have time to make a trip to the countryside, visit Kenwood House, an 18th century mansion in the corner of sprawling Hampstead Heath. The heath is one of London's largest parks, and walking through it is a lovely way to get to Kenwood. The gleaming white villa is perched on the shore of a tranquil lake and has one of the prettiest views in London, with grassy meadows, ancient oak trees and flowering bushes in the summer. Swans sail by on the lake, and the grounds are dotted with Henry Moore sculptures.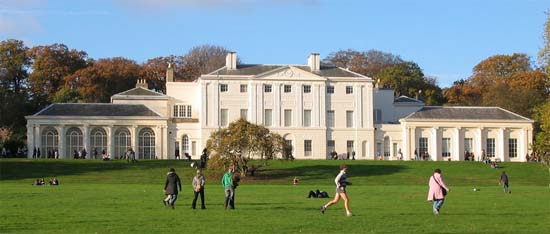 Peaceful though it may look now, Kenwood has not always been so serene. It narrowly escaped being razed to the ground in 1780. It was remodeled by the architect Robert Adam in 1764 for William Murray, the Scottish attorney general of England who later took the title of Earl of Mansfield. At the time, England was staunchly anti-Catholic and Mansfield was mistrusted by the public because of his Scottish roots. During the anti-Catholic Gordon riots, a mob burned down Mansfield's London house and pursued him to Hampstead, armed with iron railings from his house. However, a quick thinking landlord at the nearby Spaniards Inn distracted the mob by offering them free ale, and Mansfield escaped to the safety of Kenwood.
The distinctive white stucco façade, topped with medallions, Greek-key patterns and arabesques, is typical of Adam's ornate style. Not everyone liked it however. Robert Smirke, the painter and illustrator, thought it was "frippery" and called Adam's several creations "no better than models for a pastry cook." Adam had an exclusive right to manufacture stucco in England, so perhaps he intended Kenwood to act as an advertisement for the new material. The faade rapidly deteriorated however, and the present faade is made of fiberglass mouldings copied from Adam's original design.
Adam was known for his love of Roman domestic architecture, and most of the rooms here have Roman or Greek elements. Enter, and you will find yourself in a small dining room decorated in Wedgwood blue and mint green, with elaborate friezes, a curved ceiling and paintings of Dionysius, the Greek god of wine. As you walk further inside, you will pass an imposing stairway, and then enter the antechamber, dominated by a large window with a marvellous view of the lakes and hills beyond. In Mansfield's day he could see all of London from here, but since then the view has been obscured by trees. This unexpected succession of spaces, from the imposing façade to the small entrance hall, followed by the tall stairs and the large window, was one of Adam's trademarks.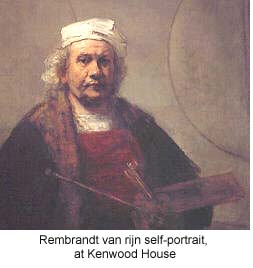 Further in, you will enter the flamboyant library, thought by Adam's fans to be an example of his best work, and his critics as an epitome of his worst excesses. As you enter, the first thing you will see is the huge domed ceiling, decorated in pink, blue and gold, meant to evoke the Pantheon in Rome. Four massive columns support the ceiling, and gilded friezes of lions and deer climb the walls. The overall effect is spectacular, if a trifle too busy for some. A huge portrait of Mansfield dominates the room, and much of the furniture and books are original.
The other rooms in Kenwood contain some fine paintings from the collection of the 1st Earl of Iveagh, who acquired Kenwood in 1925 and bequeathed it to the nation. The sumptuous dining room, hung with red velvet drapes, has the best paintings, including several old masters. Vermeer's The Guitar Player, a picture of a young girl playing a guitar, has pride of place. There is also a huge picture of Princess Henrietta of Lorraine, painted by Anthony Van Dyck. In the dressing room hangs a luminous picture of London Bridge painted by Claude de Jongh in 1630. English painters are represented by a fine Turner of fishermen on a beach, a Gainsborough of hounds hunting a fox and two paintings by John Constable.
If you are tired of paintings, the light, airy and sparingly decorated orangery is the place to go for a panoramic view of the lawns and the lake. The music room is another interesting room, originally meant for the ladies to retire to after dinner. It is hung with paintings of well known women of the time, including the famous courtesan Kitty Fisher depicted as Cleopatra by the portrait painter Joshua Reynolds.
If you have time to spare, visit the Brewery cafe at Kenwood for a picture postcard view. The cafe does a great English breakfast, and is one of London's loveliest options for alfresco dining. Pop culture fans might be interested to know that Kenwood figured in the movie Notting Hill, with Julia Roberts and Hugh Grant.
Kenwood House

Hampstead Heath, Hampstead Lane, NW3

Tel: +44 (0) 20 7973 3478
http://www.english-heritage.org.uk
Transport: London underground Archway or Golders Green stations, then take the 210 bus. Or Silverlink Metro Hampstead Heath station, then walk about one km through the Heath. Check the website for maps and details.
Opening hours: Daily 1130-1600; closed Christmas Eve, Christmas Day, Boxing Day, New Year's Day. Admission free.
---
Kavitha Rao is a freelance writer who has lived and worked in Mumbai, Bangkok, Hong Kong and Tokyo. She currently lives in London, and doesn't think she will ever tire of it. Her articles on culture, travel, literature and lifestyles have appeared in the Daily Telegraph, Asiaweek, the South China Morning Post and the Far Eastern Economic Review, among others.
---
Article © 2005 Kavitha Rao
Photos courtesy of Wikipedia.org