Hogarth House
by Jillian Schedneck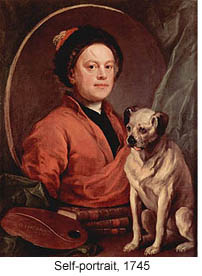 The famous 18th-century artist William Hogarth once said, "my Picture was my Stage and men and women my actors." His prints reveal much about 18th century life, including corruption, addiction, cruelty, politics and the plight of women. His works are not only masterpieces for their skill at depicting London scenes, but for their moral engagement in the social problems of London life. In his day, his prints were often displayed in public coffeehouses, exposing the public to this rich satire of London street life. Today his prints, and other facts about his life and work, are exhibited in Hogarth's House in West London. Most of his well-known engravings are on display here, including Harlot's Progress, Rake's Progress, Marriage a la Mode, Gin Lane and Beer Street.
Harlot's Progress is a series of prints depicting the story of a young woman from the country who moves to London. Throughout the prints, we can see this young woman's fall from grace and into a life of prostitution. Not only do Hogarth's prints create a compelling story, but they also comment upon the hardships and corruption of 18th century London life. Marriage a la Mode is the story of an alderman's daughter's marriage to an unhappy rake. Gin Lane is possibly Hogarth's most famous print. It depicts a street in London, filled with people drunk on gin. The poor became addicted to the drink, as it was cheap and warmed them on cold nights. These series are constructed like a play, with each print having the density of an entire scene.
If we think of his prints like a stage, as Hogarth did, we'll have a better understanding of his work and its complexity. His art is so detailed, with numerous goings on in each print, that you might find yourself staring at one or two prints for a long time, trying to take in all the action of one engraving. Every inch of the print is teeming with activity: people drinking, swooning, laughing in all corners of the scene. Animals often populate his prints as well. He sought to not only create caricatures, but characters. If you look closely at his characters' expressions, you will see that he is not mocking anyone, but trying to represent their true nature.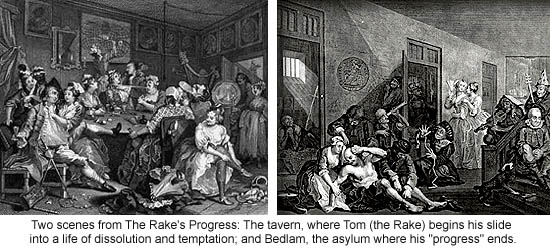 It is easy to admire the details and stories of his prints. In order to better appreciate the intricacies of life that Hogarth represents in his prints, however, it is important to know how prints are made. All of his prints were produced through etching or engraving; both processes involve carving lines onto a metal plate. With engraving, you carve lines right onto a metal plate. With etching, acid is used to create the lines. Then the plate is filled with ink and run through a hand press to put the image onto the page. With all of the many details and life-like qualities of Hogarth's prints, you can imagine how difficult it is to carve all those images onto a large metal plate with only a carving tool.
Hogarth was born in Smithfield, London in 1697. He did not come from a wealthy background; his father was put in prison for debt for five years. At 16, Hogarth was an apprentice to a silver plate engraver. By 1720, Hogarth started his own business painting portraits and engraving. He soon met Sir Thomas Thornhill, who did history paintings. Hogarth was impressed by his methods, and took classes under Thornhill in Covent Garden. The two men became friends and Hogarth married Thornhill's daughter, Jane.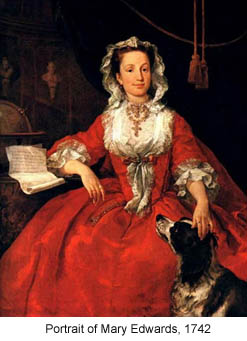 Soon, Hogarth began drawing political satires, and soon after that, started creating his prints that depicted scenes that told a moral story. From these prints, Hogarth became famous. But his prints were easily copied, and he made little money from their sales. So, he persuaded Parliament to pass the Engraver's Copyright Act. Hogarth also helped future artists by founding St. Martin's Lane academy, a school for young artists and guild for professionals.
In the early 1760s, Hogarth upset a number of Parliament members with his accusatory satire of the government. One member, John Wilkes, retaliated, and Hogarth fought back by producing a print of Wilkes with horns on his head. Shortly thereafter, Hogarth became ill and died in 1764. Hogarth's grave can be found within a few minutes' walk of the house, in the cemetery of St. Nicholas's Church, Chiswick Mall. On his grave, David Garrick, famous actor of the day, composed the following poem:
Farewell great Painter of Mankind
Who reach'd the noblest point of Art
Whose pictur'd Morals charm the Mind
And through the Eye correct the Heart.
If Genius fire thee, Reader, stay,
If Nature touch thee, drop a Tear:
If neither move thee, turn away,
For Hogarth's honour'd dust lies here.
Hogarth was honored during his lifetime as well as today. Hogarth's House has been restored after some damage during the war. Once his country home, the house is much the same as it would have been in the 18th century. Hogarth's House is located behind Hogarth roundabout, one of the busiest roads in West London. It looks large from the outside, but the rooms are quite small, packed with information on Hogarth's life, prints, and 18th century culture, as well as the steps taken to restore the home in 1997. There are many postcards, prints, and books on Hogarth to buy at the tiny giftshop at the entrance to the house.

Hogarth lived during a time that was easy to criticize. Plenty of material surrounded him, and with his sharp mind for satire and remarkable skill as an artist, it is no wonder Hogarth's House is a popular stop for tourists and art enthusiasts alike.
Getting There:
Hogarth's House, Hogarth Lane, Great West Road W4.
Open Tuesday to Friday 1pm - 5pm from April to October and 1pm - 4pm November to March. On Saturday and Sunday, it is open from 1pm - 6pm April to October and 1pm - 5pm November to March. The house is closed Mondays, Good Friday, Christmas Day and Boxing Day, as well as the whole month of January. Entrance to Hogarth's House is free although donations towards its upkeep are welcome. Parking is available nearby at Chiswick House Grounds car park.
NOTE: Hogarth's House closed to visitors on Sunday 28th September 2008 for repairs to the fabric and interior of the building. It will reopen September 2009, beautifully restored, with new displays and a lively programme of activities.
More Information:
Hogarth's House

William Hogarth and 18th-Century Print Culture

The Site for Research on William Hogarth (1697-1764)

William Hogarth (Wikipedia)
---
Jillian Schedneck has been published in Student Travels Magazine, Grad Source Magazine, Transitions Abroad, College Bound Magazine, Student Traveler, the Allston/Brighton Tab and Pupil Magazine. She was the editor of budgetbritain.com, a website that promoted study, travel and work in the UK to US students. She enjoys writing articles that combine England's fascinating history with her own travel experience. She lives in Morgantown, West Virginia.
---
Article © 2005 Jillian Schnedneck
Images courtesy of Wikipedia.org