Marble Hill House: Retreat for a Royal Mistress (or two)
by Tori V. Martínez
At first glance, Marble Hill House may appear an unlikely royal retreat since no royals ever actually lived there, but its royal roots run deep nonetheless. Not only was it home to two royal mistresses, one of whom used the house to retreat from royalty, the villa also owes its existence to a generous royal financial settlement.

Located southwest of London on 66 acres of parkland along the River Thames in Twickenham, not far from Richmond, Marble Hill House is both grand and humble. While the imposing Palladian style imparts a definite sense of grandiosity to the villa, it's impossible not to notice how small and compact it appears from the outside. Despite its diminutive size, the style of Marble Hill House is actually much closer to the true Palladian style created by Andrea Palladio in 16th century Italy than to the English Palladian revival style in vogue when work began on the villa in 1724. Unlike a slightly later and far more rambling and palatial Palladian-style residence like Woburn Abbey in Bedfordshire, Marble Hill House looks more like a boxy classical Roman temple than an 18th century English country house.
Inside, the villa feels slightly larger thanks to spacious center rooms on the two main floors. On the ground floor, the Hall continues the feel of ancient Rome with four Ionic columns dominating what was essentially a simple, yet elegant, receiving, dining and game room. A trip up the grand carved mahogany staircase leads to the Great Room, where a variety of entertainments were held. Although directly above the Hall, the Great Room is a world apart, featuring a high ceiling accented by intricate molding and gilt relief all around the room. As more than one architectural expert has noted, the room feels as though it should be in a much grander house.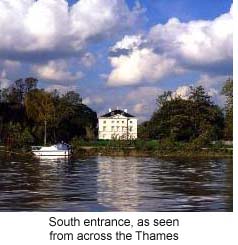 What is most impressive about Marble Hill House is that everything about it -- from the scaled-down size of the highly fashionable style to the prime location to the exquisitely decorated interior -- speaks to the social position, inclinations and aspirations of the woman who built it. Henrietta Howard was no mere royal mistress. Witty and intelligent, she was a patron of the arts and friend to many of the great minds of her time, including poet John Gay, writer Jonathan Swift and politician Horace Walpole. She was also a survivor who managed to cope with a violent first husband, effectively negotiated her way at Court, and lived to an advanced age in her comfortable riverside retreat.
The birth of the villa came in 1723, when the Prince of Wales -- the future George II -- settled £11,500 (the equivalent of about $2.5 million today) in trust on Henrietta for the purpose of purchasing land and building a house and formal gardens. At the time, Henrietta had been the Prince's mistress for as long as five years. For almost twice that time, she had also served as Woman of the Bedchamber to the Princess of Wales, Princess Caroline. By all accounts, it was a comfortable trio. Princess Caroline, who was both fond of and unthreatened by Henrietta, is known to have encouraged the relationship "for fear of making room for a successor whom he [the Prince of Wales] might really love and that might get the better of him." It's a statement that speaks to Henrietta's lack of political ambition and disinclination for Court intrigue -- traits that clearly served her well.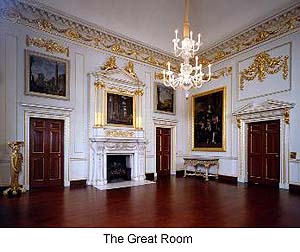 Although Henrietta lived in the royal household, the settlement enabled her to begin making plans for the construction of a house. In 1724, about 25 acres of land between the River Thames and Richmond Road in Twickenham -- located almost directly across the river from Ham House -- was purchased for the house, which had already been designed by the "architect earl," Henry Herbert, 9th Earl of Pembroke. At that time, Henrietta was aiming to build not only a retreat from her dual royal "service," but also a home that was completely independent of her estranged husband, Charles Howard -- a son of the 5th Earl of Suffolk. Charles had been a violent and opportunistic husband and Henrietta had attempted to stay as far away from him as possible for a number of years.
In 1727, the Prince of Wales ascended the throne as King George II. As Woman of the Bedchamber to the new Queen and mistress to the new King, the change should have been a good one for Henrietta. Unfortunately, Charles Howard's position as Groom of the Bedchamber to the late King George I left him without a job or an income, so he set to harassing his wife instead, going so far as threatening to kidnap her. The King intervened by arranging for Charles to receive a £1,200 allowance, reportedly with a warning that he should give Henrietta as little trouble as he had given her pleasure. In return, Henrietta received a legal separation from her husband in 1728.
Although Marble Hill House was completed by 1729, Henrietta wasn't able to take up residence due to her obligations at Court. She did receive a promotion to Mistress of the Robes, however, in 1731 when her husband became the 9th Earl of Suffolk and she -- despite the separation -- became Countess of Suffolk. When her husband died just two years later, Henrietta attempted to resign her post at Court, but Queen Caroline -- still afraid of losing her husband's "safe" mistress to a more ambitious one -- declined to accept. But by the following year, her tenure as George II's mistress had ended and she was finally able to retire to Marble Hill House in November 1734.
Fully withdrawn from Court life, Henrietta lived comfortably at her retreat for 33 years, entertaining intelligentsia in the Great Room, marrying again, and raising her brother's two children. As the years progressed, Marble Hill House and the surrounding grounds came to represent everything that was ideal to the Georgian era, and many of those elements remain today, including the Grotto, the Ninepin Alley and even a black walnut tree that was possibly planted by Henrietta.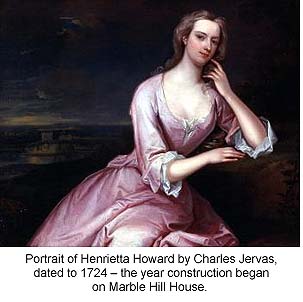 After Henrietta's death at the age of 79 in July 1767, the house, all of its contents and the surrounding estate passed to her nephew and eventually to her grand-niece, Henrietta Hotham. While Marble Hill was in the younger Henrietta's possession, it once again became the home of a Georgian royal mistress when it was rented in 1795 by Mrs. Maria Fitzherbert. Maria had not only been the mistress of another Prince of Wales, the future King George IV, but had actually secretly married him in 1785. Since Maria was a Catholic and permission for the marriage had not been obtained from King George III, the clandestine marriage was invalid according to the Royal Marriages Act and the Act of Settlement. In any case, the year of Maria's residence at Marble Hill House also coincided with the Prince of Wales' official marriage to Princess Caroline of Brunswick.
Following Maria Fitzherbert's residency, Marble Hill was let to a series of tenants before it was purchased in 1898 by William Cunard of the Cunard shipping line, who planned to tear down the villa and develop the site. Thanks to a local opposition campaign, the entire site was saved and, in 1902, an Act of Parliament was passed to protect it.
Today, Marble Hill House has been lovingly restored and is maintained by English Heritage, which has managed to furnish it with some of the original contents. Amazingly, the villa's furnishings have been discovered as nearby as Kensington and as far away as Australia. The surrounding Marble Hill Park is also lovingly maintained and boasts both historic features and modern facilities, including tennis courts, a putting green and a play area for children. Each summer, the grounds are also the location of several outdoor concerts.
For travelers with a big to-do list and limited time, Marble Hill House is especially convenient for its proximity to other sites like Ham House and Hampton Court Palace. And despite its breadbox size and relative obscurity in comparison with other sites, the villa holds the distinction of being included in British journalist Sir Simon Jenkins' 2003 book, England's Thousand Best Houses. Pretty good for a not-quite-royal retreat.
Marble Hill House is currently open only on weekends between March 24 and October 31, as well as on Bank Holidays. From November 1 to March 31, the house is available by pre-booked appointment. For more information, visit the Marble Hill House portion of the English Heritage web site at http://www.english-heritage.org.uk. The house is a good mile from the Richmond Train and Underground station, so if you're in a hurry to get there, take a taxi. But if weather permits, the walk back to Richmond can be done via a more leisurely -- and very scenic -- walk along a footpath on the River Thames.
---
Tori V. Martínez is a writer and freelance public relations professional who spends as much time as possible researching and writing on her favorite subject -- history. Several years ago, Tori eschewed the life of a full-time career woman to travel and live around the world, particularly in Britain, where she spent considerable time exploring and researching historic destinations. At the moment, she is living in the US with her husband -- a Spaniard she met in England -- and is happily writing for a variety of online and print publications. For more about Tori, visit http://www.globetrottingbroad.com.
---
Article © 2005 Tori V. Martínez
Top photo (north/south face) courtesy of Wikipedia.org. Additional photos courtesy of English Heritage and are copyright English Heritage Photo Library.