Boscobel's Royal Oak: A King's Hideaway
by Steven Newit
Why are so many pubs in England called 'The Royal Oak'? The answer to that question lies in a quiet rural setting where once a King who'd lost a civil war fled from his enemies.
Who would have thought that a tree in a field by a very old house could have such historical importance? But the house is still there, and there was such a tree, and once a king of England really did hide in it to avoid capture and execution.
After driving between fields and villages down the narrow country lanes of Shropshire, you will arrive at a gift shop by a pond. Pay a small entry fee and you walk through the shop into the courtyard of Boscobel House, converted from a farmhouse into a hunting lodge in 1692 by one John Gifford. You can see at once that the buildings are old, though in excellent repair, and the aged farm machinery at the edges of things helps to roll back the centuries too.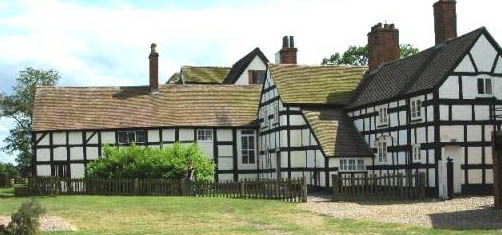 It seems quiet enough now, but there was a time when Charles II was fleeing the Roundhead army of Cromwell, and after a short stay at White Ladies, just down the road, and a brief visit to Boscobel, the hunted King of England went out into the gardens, into the nearest field, climbed an oak tree and stayed there in hiding until the danger was past.
There are always guided tours of the house itself, offering information ranging from the construction methods used in building the house to the plight of the fleeing king. The friendly people in the shop will inform you when the next tour is due to begin.
The wooden floors of the house are worn and polished by centuries of footsteps. There are wooden panels and painted walls that imitate panels. In one room is a long table (historically known as a 'board', which has led to such commonly used phrases as 'chairman of the board', 'keeping things above board', and even 'turning the tables.' Let the guide explain why that is.). The rooms are dark and imposing with leaded windows looking out onto the gardens.
Upstairs in one of the bedrooms is an example of a 'priest's hole' -- a hidey-hole kept under the privy. This was a very smelly place and was chosen for that very reason, to put Cromwell's dogs off the scent! Fortunately, with the passing of so many decades since it was last used for its intended purpose, the smell is now gone, and children may be invited to climb into the hiding place to test it out.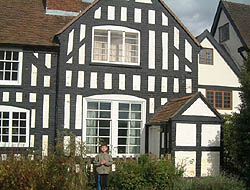 On the top floor is a long attic with more of those lovely boards in the floor with their old, worn shapes and contours. Here also is another priest's hole. Might you spot it before the guide reveals it? Probably you won't, for its purpose was the hiding of Catholics from the hands of their Protestant persecutors, and if it was easy to spot, it wouldn't have been very good at its job.
As you leave the building, you'll encounter displays with information concerning Charles and the historical events surrounding his association with Boscobel, and a kitchen and outhouses with old milk churns and other items from times gone by.
The gardens are a nice place to reflect on the history of the property whilst sitting on a bench and admiring the flowers laid out in large squares. You needn't know that, seen from the upper floors of the building, the flowers would have formed a picture with a forbidden Catholic symbol in the middle that soldiers on the ground wouldn't have noticed. It is a pleasant garden and an old building and that alone would be relaxing and interesting enough for many visitors.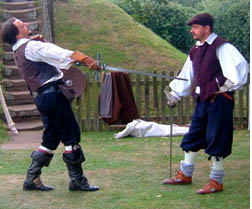 However, there's another thing that can make a trip to Boscobel great. If you time it right, there are often entertaining historical reconstructions in the gardens. Obviously, these events arrive, perform, and leave, so you need to check ahead to avoid disappointment. The following are simply examples I've encountered and, of course, you may find something different is booked.
At the first event I saw at Boscobel, the garden was filled with people in period costume, asking questions of the visitors and making speeches in role, thus conveying information about the kind of people who once populated the house. Mini-plays or little scenes were taking place around and about and gathering small audiences.
At the second event, two jolly chaps with swords, and with a great sense of fun and showmanship, expertly demonstrated the technical niceties of swordplay. They were fenced off (no pun intended), but that didn't stop one of them from doing a sword-swinging run at me that nearly made me drop my camera! The name of their group stays with me for that reason -- 'Cut and Thrust'.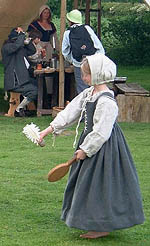 And then there are large travelling collections of people in period dress who are often at such events. They set up stalls or tents around the garden, light wood fires, cook, and display crafts, embroidering, games, and weapons. They invite questions and are always happy to chat with visitors at length. It's a rewarding interactive experience.
Other groups may demonstrate the use of muskets in battle. This is obviously very noisy, but they don't use musket balls and they don't point weapons at the audience. They have a small but loud mock battle to demonstrate the inaccuracy of the muskets and their complex loading procedure, with a certain amount of comedy thrown in for good measure. These activities can be videoed and photographed without restriction, and the re-enactors are keen to discuss what they do.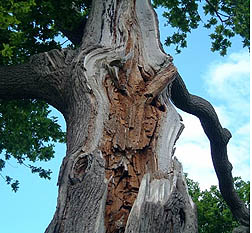 When the smoke has cleared, there is one more thing to do. There is a path at the back of the gardens that leads to an old oak tree. It isn't really the original one -- that got hacked to bits by souvenir hunters in centuries gone by, which may explain why the present tree has a high metal fence around it. Even that didn't prevent lightning striking it, and so one can only conclude that this was a dangerous hiding place indeed.
How significant was this event in English history? Well -- the whole country is filled with pubs called, 'The Royal Oak,' and now you know why. They're named after Charles II's successful escape from Oliver Cromwell's Roundhead army, here at Boscobel, when he hid in his famous tree.
More Information:
Boscobel can be reached on a minor road that runs from the A41 to the A5, eight miles North West of Wolverhampton. Five minutes drive from junction 3 of the M54 (OS Map 127; ref SJ 837083). Entry is £4.40 for adults and half price for children. When there is an event the prices may be slightly higher. The house is open from April to October, 10am-5pm (or 6pm in mid-summer as the evenings are lighter). Last entry allowed is one hour before closing time and the average length of a visit to Boscobel House is two hours. To check activity schedules such as re-enactments or other historical entertainments, call 01902 850244.
Boscobel House (English Heritage)

Boscobel House and the Royal Oak

Boscobel House and the Royal Oak in 360°

Boscobel House (The Heritage Trail)

Evidence on Site: Boscobel House

The English Civil War

The English Civil War - Wikipedia

Charles II's Restoration

Sir John Owens Companye of Foote (re-enactors)

English Civil War Society (re-enactors)

The Sealed Knot Society: English Civil War Re-enactment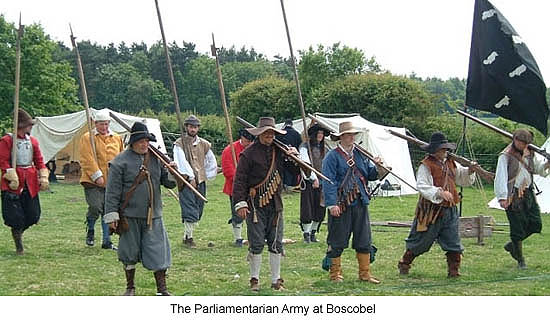 ---
Steven Newit is an ex-English teacher based in the UK. He is married with two children and has a strong interest in writing stories and songs. His efforts have met with success in various writing competitions. He is also a keen Internet gamer and a section of his website is devoted to Quake 3. Visit his website at http://www.flamedruid.pwp.blueyonder.co.uk/index.html
---
Article and photos © 2005 Steven Newit