A Welsh Christmas
by Lise Hull
Dylan Thomas' A Child's Christmas in Wales is an endearing tale of one boy's Christmas customs in Swansea, where Thomas himself was born and where, as he noted in the poem published in 1955 (two years after his untimely death at age 39), "All the Christmases roll[ed] down toward the two-tongued sea, like a cold and headlong moon bundling down the sky that was our street." Memories stirred of Mrs. Prothero and a Christmas Eve house fire. Postmen "with sprinkling eyes and wind-cherried noses... stood on the white Welcome mat in the little, drifted porches and huffed and puffed, making ghosts with their breath, and jogged from foot to foot like small boys wanting to go out." And, Uncles, always the same Uncles, would arrive at his home, which was adorned with mistletoe hanging from the gas brackets while "sherry, walnuts, bottled and crackers" awaited family returning from chapel.
While modern day Christmases in Wales resemble much of what Dylan remembered from his youth (however, with a lot less snow!), many families in Wales still acknowledge the season with several long-standing traditions. Not only do they open presents, dine on the traditional roast, Welsh rabbit and Christmas cake (see sidebar), and enjoy the brisk Welsh air, many celebrate the season by attending Plygain. Plygain (meaning "daybreak" or "cockcrow") consists of church services held usually between 3 and 6 AM to welcome Christmas (Y Nadolig) morning. Carols (carolau), traditionally sung by men in three to four part harmony, Bible readings, and candle lighting highlight the service. In some parts of Wales, a torch-lined procession accompanies the rector to the church, which is decorated with colorful Plygain candles and holly.
The services were once venues largely attended by men. The women remained home to prepare the dinner and socialize, while children played outside, made cyflaith (treacle toffee), and decorated their houses with holly and mistletoe. Nowadays in Wales, entire families participate in the ceremonies. Afterwards, they return home to begin the day's festivities, which might include a game of cnapan (a traditional Welsh sporting event somewhat similar to soccer but played by neighboring villages) while waiting for the roast goose or beef to be done.
The day after Christmas, traditionally known as Boxing Day or Gwyl San Steffan (St. Stephen's Day), is now widely celebrated throughout Britain as the beginning of the lengthy holiday period. In Wales, an unpleasant custom known as "holly-beating" or "holming" once took place on Gwyl San Steffan. Young men and boys would cut switches from holly bushes and then roam the village attempting to raise bloody welts on the arms or bare legs of female servants or on those of the person who was the last to get our of bed on the day after Christmas. Domestic animals, including horses and cows, would also be bled. The ceremony reputedly brought good luck during the coming year. Not surprisingly, holly-beating disappeared in the late 19th century.
Another custom, carried out either on Gwyl San Steffan or on Epiphany (January 6th), is known as "Hunting of the Wren." Sometime during the day, youths would capture a wren, place it in an ornate container or specially built cage (the wren house), and carry it on a bier throughout the village, offering to display their "cumbersome" burden in exchange for small gifts or money. In recent years, the wrens have been replaced with the easier to find sparrow, and the ceremony has begun to disappear throughout most of Wales.
Welsh New Year's (Dydd Calan) is celebrated with a variety of unusual and raucous festivities intended to see out the old year and welcome in the new. Even today, residents should beware of visitors bearing gifts, for one's luck during the upcoming year is predicted by the nature of the first visitor into a home. Male heads of households should avoid first opening their doors to a woman, for bad luck will follow. Likewise, having red-haired men as one's first guests in the New Year brings misfortune. Bad luck also goes to those who lend anything to anyone on New Year's Day.
Also on Dydd Calan, children customarily carry a "callenig" from house to house in their village. Made with a fresh apple or orange, the callenig was placed upon a base of three evergreen twigs, adorned with cloves or sliced almonds, which were pressed into the fruit, and topped with a sprig from the nearest hedge. Receiving the callenig is said to bring good luck. In a variant of the custom, known in some parts of Wales as "New Year's Water", boys carried a cup of water taken from the local well to the houses in their village. Using a freshly cut evergreen branch, they would sprinkle the water on the people they encountered. Once they had made their way through the entire community, they received a callenig, in the form of a cluster of coins. Originally distributed at Christmas, the custom of giving or receiving the callenig is slowly disappearing from Wales.
Arguably the quirkiest of traditions is the parading of the Mari Lwyd (Grey Mare), which is making something of a come back during present-day Welsh New Year's celebrations. The curious creature consists of a horse's skull (now often made of cloth or other materials) perched atop a pole, which is draped with a white cloth and adorned with ribbons and other decorations. Underneath, an individual disguised by the costume totes the Mari Lwyd around the village. Accompanied by a group of companions dressed in black, the Mari Lwyd marches through the area, greeting people with its snapping jaws and challenging them to a competition. Contests begin with the Mari Lwyd reciting Welsh-language poems when doorways open. In response, and in an effort to keep the Mari Lwyd out of the house, residents perform with their own Welsh-language verse. The competition itself is normally good-natured, but at times has the potential to degrade into insults and combative posturing, as both sides refuse to admit defeat. Once a victor was determined, the Mari Lwyd and its entourage might be welcomed into the house, where they continued to tease the guests (especially the women), eat, drink and be very merry -- or continue on their way.
The symbolic meaning of the Grey Mare and its boisterous behavior is unclear. In pre-Christian times, the white horse figure was a fertility symbol. However, the name itself has also been translated as "Venerable Mary" and is thereby associated with the Virgin Mary. Whatever the origin, welcoming the Mari Lwyd, and also the callenig and suitable guests, into the home is said to bring good luck. In some cases, it reputedly brings fertility as well!
Traditional Christmas Cake / Teisen Nadolig
(Thanks to John Hughes for giving me permission to reprint his recipes.)
Ingredients
1 1/2 lbs. flour
1/2 lb. butter
1 lb. castor sugar
1/4 lb. mixed peel
1/2 lb. currants
1/2 lb. raisins
1/2 lb. sultanas
4 ozs. sweet almonds
Half a nutmeg grated
1/2 oz. yeast
Mixed spice (optional)
Bottle of ale or beer
Juice of half a lemon and half an orange
Directions:
(Traditionally, this recipe for Teisen Ddu Nadolig (Black Christmas Cake) would use home-brew, but a bottle of pale ale or light beer can be used instead. This cake will keep for a considerable time, and improves with keeping!)
Rub the yeast into the flour, and when well mixed rub in the fat, sugar, fruit and spices; add the fruit juices, and mix with the beer or ale. Be careful that the mixture does not become too soft.
Bake in a moderate oven for three hours.
More Information:
Calenning (Welsh "New Year's Money" tradition)

Christmas in Wales

Old Welsh Christmas Customs

Welsh Christmas Traditions

Welsh Culture & Traditions

Welsh Folkdance Society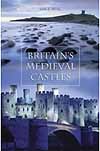 Britain's Medieval Castles
Lise Hull is a recognized authority on British castles and heritage, with a Master of Arts degree in Heritage Studies from the University of Wales, Aberystwyth, as well as a Master of Public Affairs degree, specializing in Historic Preservation, from Indiana University. She is the author of several of books on Britain, including Britain's Medieval Castles (Praeger: 2005), Great Castles of Britain and Ireland (New Holland: 2005) and Castles and Bishops' Palaces of Pembrokeshire (Logaston Press, 2005). Her work has appeared in numerous publications, including Military History Quarterly, Military History, Renaissance Magazine, Family Tree Magazine and Everton's Family History and Genealogical Helper magazines; she is also a regular contributor to Faerie Magazine. Visit her websites at http://www.lisehull.com and http://www.castles-of-britain.com. Hull also writes TimeTravel-Britain.com's Finding Your Roots column.