Sending Holiday Greetings, Victorian Style
by Julia Hickey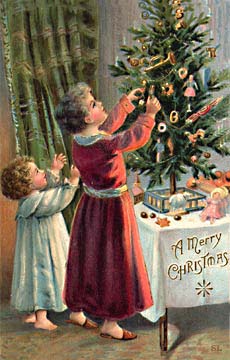 We may bemoan the task of sending out dozens of holiday cards every year, but if so, we have only the Victorians to blame. Before Sir Rowland Hill introduced the Penny Post in 1840, it was an expensive business to send letters by mail coach. The first letter sent with a stamp, posted from a Bath address -- now home to the Postal Museum -- changed all of that, not least because the sender was now responsible for the cost of carriage rather than the recipient. One of the reasons for this change in cost was that the new 'Public Post Office' could make use of the fast-growing rail network to transport large quantities of post in a fraction of the time previously taken by the mail coach. For the first time, ordinary people could correspond more freely with one another.
The Christmas card was invented in 1843 by Sir Henry Cole, an imaginative civil servant who perhaps saw a potential market or was growing tired of writing lengthy Christmas missives. He asked artist John Calcott Hosely to create a card for him. The card, which may be seen in the print room of the Victoria and Albert Museum, depicts a family enjoying a glass of wine and toasting the person looking at the card. On either side of this colorful festive gathering, the cold and hungry are given blankets and food.
The appearance of this image must have caused some comment when it made its appearance in Bond Street. Fashionable ladies pausing to inspect Cole's creation will have had something to say on the subject. Some, no doubt, will have commented on the poor example illustrated within the card -- 'Fancy depicting a mother giving her child alcohol!' Others will have lamented the idleness of sending a mere card when politeness dictated that a letter should be sent to ones friends and families. Many ladies will have gasped when they saw the price -- one shilling for a single card! A few, the wealthy and the inspired, parted with their shilling and became the owners of the first 1000 cards ever produced. They little knew that they were beginning a tradition that would expand so dramatically in a relatively short space of time.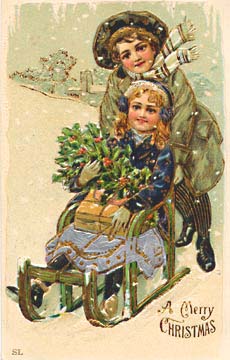 The early cards -- a range of which can be viewed at the Victoria and Albert museum (of which Sir Henry Cole was a founding director) -- bore little resemblance to the nativity scenes, robins and Santa Claus images of today. Early cards were filled with cherubs and flowers. Gradually a more Dickensian flavour filtered into the cards. Skating couples, holly (which appeared for the first time on Christmas cards in 1848), stage coaches being drawn over winter landscapes, little Kate Greenaway girls wrapped up in fur hats and muffs, and of course robins, all appeared on Victorian cards. As the cards became more popular they grew larger and more embellished -- lace, doilies and scraps of ribbon were used to create borders for later cards.
As early as 1860, established artists and illustrators were producing designs to go on these cards. William Egley, who illustrated a number of Charles Dickens' works, is no exception. A copy of his card can be viewed in the British Museum. The British Museum is also home to a large selection of Victorian Christmas cards -- many sent by Queen Victoria -- collected by Queen Mary. By 1870, when the half penny post was introduced for cards sent in unsealed envelopes, the Christmas card was an established feature of the season. As more people purchased the cards, their price decreased and in 1880 the slogan 'post early for Christmas' was introduced (a plea that the Post Office still issues every Christmas). A Christmas Card Mission was even established with the goal of bringing festive cheer to prisoners, inmates of drab workhouses and patients in hospitals who might well need a colourful reminder that it was Christmas.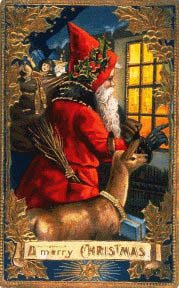 By the early 20th century, the Christmas card was part of the fixtures and fittings of Christmas. In addition to sentimental Edwardian Christmas cards and regimental Christmas cards, it is possible to find cards created by the suffragette movement, among others. In addition to the expected images, Christmas cards reflect the times in which they are created. The very first Christmas card shows scenes of poverty that Charles Dickens writes about in The Christmas Carol, which was published in the same year as the first Christmas card. There are many fine examples of Christmas cards sent during World War One, which -- like the early cards -- seem to have very little to do with Christmas. They often bear a regimental image and a patriotic message as well as season's greetings. Some of these cards are printed. Others are drawn by hand and tell a poignant story. Yet others were designed to be sent home as keepsakes to wives, mothers, sisters and sweethearts and are made from silk.
When did Father Christmas appear on the first card? Well, he appeared on a Christmas card at the request of Abraham Lincoln during the American Civil War. He is depicted with Union troops. The World War I and II images seen on British Christmas and post cards were not new: Lincoln got there first.
Today all kinds of Christmas cards are available on the market, including facsimiles of traditional images dating from the Victorian period onward -- especially images that have a traditional feel. Many museums also house Christmas card collections: many people don't seem to be able to part from their Yuletide greetings, perhaps because they like the images, maybe because of the sentiments and the love sent with the card or maybe because one day they'll be collectable. After all Queen Victoria and Winston Churchill both sent cards to their friends and families!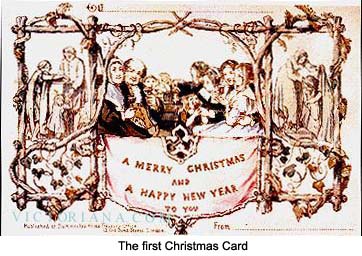 More Information:
Bath Postal Museum

The British Postal Museum and Archive

National Portrait Gallery

Victoria and Albert Museum

Victorian Christmas Cards
---
Julia Hickey is passionate about England's heritage and particularly of Cumbria, where her husband comes from. In between dragging her family around the country to a variety of historic monuments, she works part-time as a senior lecturer at Sheffield Hallam University. She spends the rest of her week writing. In her spare time, she enjoys walking, dabbling in family history, cross-stitch, tapestry and photography.
---
Article © 2005 Julia Hickey