Christmas at Blenheim Palace
Blenheim Palace is throwing open its doors and welcoming visitors to enjoy the Palace dressed for Christmas.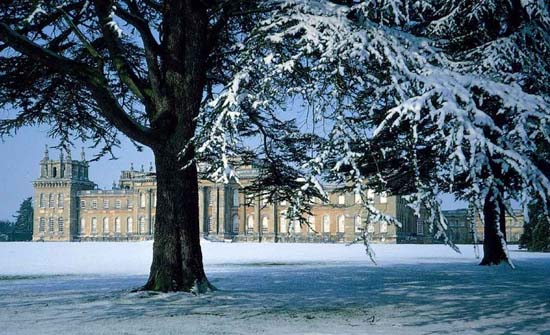 From 12th November to 11th December, Wednesday to Sunday, the Palace and its courtyards will be transformed into a winter wonderland, offering visitors a truly magical experience. Estate-grown Christmas trees will greet visitors as they stroll through the Great Courtyards. And inside, glowing fires will provide a warm welcome to this unique Palace.
Opulent decorations will adorn the Great Hall and Long Library adding to the traditional festive atmosphere. Beautiful green and gold garlands will be draped throughout the minstrels' gallery and over the magnificent mantelpieces, and miniature Christmas trees will continue the green and gold theme throughout the Palace.
Christmas wreaths will add a touch of festive humour to Blenheim's stunning statues in the Great Hall and Long Library, whilst some rather unusual decorations will provide a fun 'twelve days of Christmas' theme for children to enjoy.
In the Saloon, visitors can see the Marlborough family's traditional Christmas table, which will be adorned with sparkling silverware, beautiful crystal, flowers, ribbons and baubles, complimented by a surprise festive centrepiece.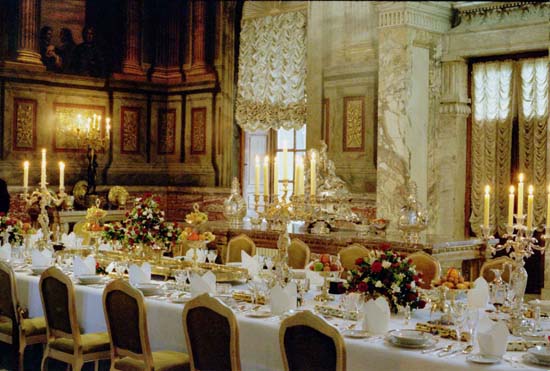 A traditional nativity scene will be set in the chapel and at weekends, carol singers, organists and brass bands will bring the spirit of Christmas to life at the Palace at the weekends. The celebrations will include performances from the Brazenose College Choir, Witney Town Band, Sue Douglas Child Musicians and Neil Watson Brass Band.
Palace tours run throughout the day and visit the Chuchill exhibition which includes the room where the man himself was born. "Churchills' Destiny -- The Story of Two Great War Leaders" exhibition, based in the stables, will remain open until December 11.
Blenheim's own unique shops provide an array of beautiful Christmas gifts and home grown food such as Blenheim Water, Blenheim Honey and a specially selected range of champagne, wines and liqueurs. The combination of books, handcrafts, toiletries and luxurious arts and crafts, inspired by the beautiful Palace and Grounds, make shopping a delight. Decorations reflecting those in the Palace will be on sale, along with all that one might need to celebrate the festive season in style.
From early December, visitors will also be able to buy freshly harvested, home grown Christmas trees from the huge selection grown every year on the estate.
John Hoy Chief Executive of Blenheim Palace said, "Christmas at Blenheim last year was superb. We had a fantastic response from our visitors and this year we have once again decided to extend our season to recreate the magic."
Fees:
| | | | | |
| --- | --- | --- | --- | --- |
| | Adult | Child | Senior | Family |
| Palace, Park and Gardens | £11.50 | £6.00 | £9.00 | £30.00 |
| Park and Gardens | £6.00 | £2.00 | £4.00 | £14.00 |
| Park only (from 12 Dec) | £2.50 | £1.50 | | |
Admission to Living Crafts for Christmas includes access to the beautiful park and famous gardens
Child age 5-16. Under 5's free
Family ticket applies to 2 adults and 2 children
Student admission costs are the same as senior citizens
All prices include VAT at 17.5%
Advance tickets are non-refundable.